How To Make Yogurt On The Stove

20 Dec 2010
As an expert in making yogurt, I have taught many of my friends how to make yogurt on the stove and I thought of sharing my ideas with everyone who want to make yogurt on their own for a healthy snack. Making yogurt on the stove requires few days of practice and as you make yogurt yourself you will start to enjoy the task as well as your own homemade yogurt.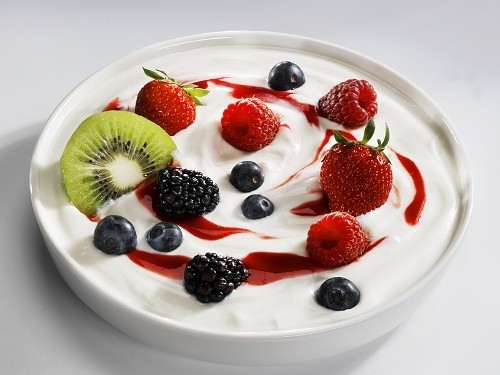 So, let me teach you how to make yogurt on stove.
While there are many methods of making yogurt at home, the best results are achieved by making it on the stove. There is no way your yogurt can spoil if you keep the temperature and starter right.
Take milk in a large vessel and bring it to boil. Keep stirring the milk while is heated on medium flame and until the temperature reaches 185 degrees.
Switch of the flame and allow the milk to cool down to 110 degree centigrade.
For cooling quickly, keep the milk pot or vessel in cold water bath.
Take 2 table spoon of starter in a bowl for every one liter of milk and mix it in the milk thoroughly until it blends with the milk and spreads all over.
Transfer the milk with the starter into a new bowl that is just big enough to hold all the milk.
Cover the milk bowl with a plate keeping it half open or with a plastic wrap by punching holes in them at the top.
Or you can create individual servings by pouring it in small size mason jars. You can keep the jars open.
You will have to place the milk bowl in a warm place, preferably inside a kitchen cabinet. If it is too cold or during winters just heat your microwave and keep the bowl inside.
It will take about 6-8 hours for curdling. Keep it in the oven or at room temperature until the yogurt is firm enough.
As soon as the yogurt is firm enough, transfer it to the refrigerator. Keeping it at room temperature will result in sour yogurt.
Chill the yogurt completely before serving.
You can preserve some yogurt to be used as starter for the next round of making yogurt on the stove.
Yogurt is healthy and can be eaten in innumerable ways apart from eating plain. Make mixed fruit yogurt or mix your favorite fruit in it. Add sweeteners or season it with saffron or vanilla extract or strawberry extract. You can have seven different variants for a week and still have many options of making yogurt an interesting snack.


Image Courtesy: odealvino.com
How To Make Yogurt On The Stove