How to make frozen yogurt
8 Jul 2010
Frozen yogurt is a popular healthy alternative to ice cream and if you want a homemade version here's how to make frozen yogurt. I am going to give you a secret easy recipe on how to make frozen yogurt. The whole process of making frozen yogurt at home steals only a few minutes with you and is a very simple dessert to prepare. For this low calorie, low fat frozen dessert you will just need to combine the basic ingredients for a simple vanilla frozen yogurt. However, you need to maintain some patience till the yogurt freezes to the perfect consistency.
So, here goes your recipe on how to make frozen yogurt –
For the ingredients and equipments –
You need to collect all the ingredients and kitchen stuffs in place before you start. That only makes your preparation easy and quick. So, you will need 1 to 2 cups of plain yogurt, colander, cheesecloth, 2 to 3 cups of milk, half a cup of sugar, 1 to 2 tsp of salt, 1 tsp of vanilla extract, gelatin and an ice cream maker.
Steps for making frozen yogurt –
•    Line the colander with the cheesecloth and put the plain yogurt into it. Now, keep it like that for three ho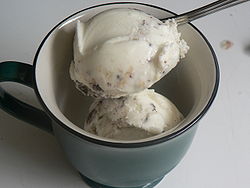 urs and let the excess liquid drain away. Next, take a large bowl and mix in it, the milk and the sugar. If you are health conscious, you can also add artificial sweetener. To this mixture, add some salt and 3 ounce gelatin. The gelatin gives thickness to the frozen dessert.
•    Now, pour the entire mixture into a double-boiler pot and simmer it on a low flame for about 5 minutes. Make sure that the gelatin is completely dissolved. Then, remove the pot from the oven and allow it to cool. Next, stir into the mixture, one teaspoon of the vanilla extract along with the drained yogurt.
•    In the third step, pour the entire yogurt mixture into a large bowl and put a lid over it. You can also cover the bowl with a plastic wrap. Then, put it into the refrigerator and freeze it for 8 long hours so that all the ingredients are well blended and the dessert is well set.
For the finishing touch –
Transfer your entire yogurt mixture to the ice cream maker and churn the dessert as given in the instruction manual of the machine. The usual time is between the 20 to 40 minutes range. For best results, freeze your Fro Yo or frozen yogurt for one whole week.
Picture Source:
How To Make Frozen Yogurt