Champagne Cocktails Recipe Book Giveaway
4 Aug 2011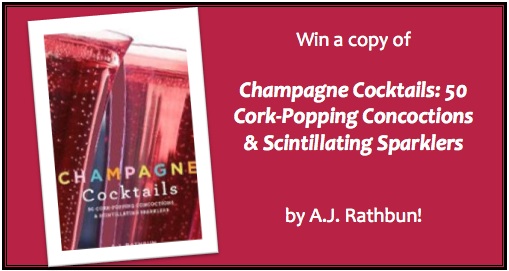 To Enter:
Make a quick visit the ifood.tv Facebook Fan Page and answer the trivia question.   Don't forget to enter your name and email address if you want the chance to win!
About the Prize:
Award-winning cocktail writer A.J. Rathbun presents Champagne Cocktails: 50 Cork-Popping Concoctions and Scintillating Sparklers. 
Champagne Cocktails features stylish, full-color photography that showcases the author's bubbly, creative creations: lively, expertly crafted, and memorable recipes that threaten to steal the limelight from even the most regal wedding cake. The handy book also features Rathbun's sage advice—bits of wisdom and know-how he's gleaned from years of tasting, concocting, and writing about cocktails. 
Recipes include classics like the Bellini, fruity originals like the Tropicaliana, international flavors like the Venetian Spritz, refreshing mixes like the Temporary Getaway, and sparkling beverages for a crowd like the Harvest Bowl. 
Champagne is definitely celebratory, and perhaps even more so as it's become less expensive and more accessible than it used to be. Now that it's no longer reserved for extra-special occasions, champagne is more likely to be seen as a potential cocktail ingredient – one that can take an ordinary cocktail to the next level of festiveness. This title provides 50 delicious recipes framed by both A.J.'s trademark wit and fresh, contemporary photography. The result is a compelling impulse or add-on purchase for wine and cocktail enthusiasts–something that could be given along with a bottle of champagne. 
About the Author:
A.J. Rathbun is a food and entertaining writer and poet and the author of Champagne Cocktails, Dark Spirits, Wine Cocktails, Luscious Liqueurs, Party Snacks!, Party Drinks!, the IACP Award-winning Good Spirits, Double Take (in collaboration with chef Jeremy Holt), and editor and contributor for In Their Cups. In addition to his cocktail books and cookbooks, Rathbun is the author of Want, a collection of poems. He lives in Seattle, Washington. To learn more, visit Rathbun's website at www.ajrathbun.com and drink up his blog Spiked Punch (it's lonely, and needs attention).
Not into entering a contest?  You can purchase your copy of Champagne Cocktails: 50 Cork-Popping Concoctions and Scintillating Sparklers on www.amazon.com.
Champagne Cocktails Recipe Book Giveaway