Why We Love Greek Wines - 7 Reasons
22 Nov 2010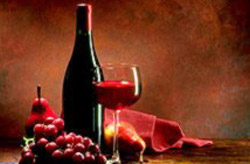 Why we love Greek wines - 7 reasons? This title may strike with many wine aficionados. But before dissecting the 7 reasons behind our love for Greek wines, it's important to know how it all began and how it reached this level.
It is believed that wine originated around 6000 BC in the border areas of Iran and Georgia. Its essence and taste attracted Europeans, Asians and Arabians, and still continues to lure people. The Greeks honored wine through God Dionysus. Greeks affection for wine has refused to wane since 4000 B.C. It seems the essence of Greek wine lies with special concocting flavors and special distillating techniques adopted by wine makers.
Now let's dissect those 7 reasons which encourages us to root for Greek wines
Dessert Wines
Let's start with something sweet. Syrupy muscats from the Greek islands has been entertaining Europeans since the middle ages. The syrupy muscat from the island of Samos is savored and favored throughout the world. The super- concentrated bottle of Samos Nectar can be purchased by shelling out $28. This tawny, resin, and caramel flavored wine never ceases to attract people. Other than this, you can root for vin santo from Santorini, which is prepared from assyrtiko grapes.

 

White grape wines
Greek wine manufacturers are striving hard to maximize the potentials of their native white grapes to develop crackling white wines. These crackling white wines can be teamed with various seafood. Our vote for best goes to moschofilero, a variety from the central Peloponnese, which is famous for its fare of orange blossom-scented wines.  Other than that you can try out 2009 Semeli Mountain Sun White ($12); and 2009 Ambelones from Domaine Vassiliou ($17).

 

Great Greek Rosés
Greek rosé wines are laced with fruity flavors and favored for their amazing lightness and elegance. All regions in Greece are marked for their own fare of Greek Roses. Our vote for best choices go to dry Kir-Yianni Rosé Akakies ($17), from Amyndeon in Macedonia, and  2009 Gaia 14-18h Rosé ($16), from the Peloponnese; and  2009 Enotria Rosé ($14).

 

Classic Red Greek Wines
Greek red wines pack in light texture, but today many wine makers are deepening the hues of these natural wines. The most famous area for richer red wines come from agiorgitiko grapes from Nemea, southwest of Athens. We root for 2008 Averoff Fresco ($13) ; 2008 Nemea from Domaine Harlaftis ($10) ; 2006 Gaia Estate ($50) and Domaine Mercouri's 2006 Estate Red ($25).

 

Santorini Wines
Santorini Wines from the island of Santorini and are made from austere assyrtiko grapes.  These grapes are steely and rich in its appearance. We root for bone-dry, lemony 2009 Argyros Assyrtiko ($26) and Gaia's vibrant 2008 Thalassitis ($26).

 

Retsina Wines
The resin wines can be teamed with feta, kalamata olives, and many other Greek foods. You can enjoy the resin masked oxidized wines with most of the Greek delicacies. We root for Malamatina ($4) from Macedonia, and Gaia Ritinitis Nobilis ($16).

 

Xinomavro
The Greek reds squeezed from native xinomavro grape always appeals and amazes you with its tantalizing tastes. The wines are produced in northern Greece, and its epicenter lies in the region surrounding the town of Naoussa. The young xinomavro wine with fruity berry flavors go well with all grilled foods. You can go for 2006 Kir-Yianni Ramnista ($30), 2000 Vaeni Grand Reserve ($23), 2006 Karydas Naoussa ($26) and 2003 Grande Reserve Naoussa from Boutari ($25).
Image courtesy: hellenicadventures.com
Why We Love Greek Wines - 7 Reasons