How To Make Wine Marinades – Add Flavor In Style
8 Oct 2010
The wine marinades can be just perfect to cook your meat or chicken, when you know how to make wine marinades. Usually, the wine marinades are prepared using two types of wine, red or white.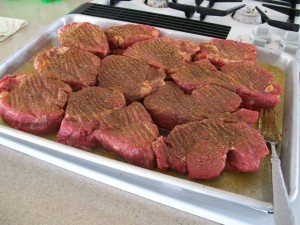 Along with the wine, different types of spices or herbs are used to add flavor in style to the special cuisine. Making wine marinades require proper measurement of ingredients to bring out the maximum flavor and taste. Here you will find 6 varieties of marinades prepared with either red or white wine.
Herbed Lemon Marinade
To prepare this marinade you should use same part of freshly squeezed lemon juice, dry white wine and olive oil to mix with chopped fresh rosemary, fresh thyme and parsley. To this mixture add grated lemon rind and thinly sliced garlic. Don't forget to add pinch of salt and pepper to taste. This marinade can be used to marinate meat or chicken from 2 hours to 6 hours. The more you marinade the meat, more will be the flavor.
Steak Marinade
This steak marinade is based on dry white wine. You need to add soy sauce, sugar, olive oil, crushed garlic and ground ginger in small proportion to the dry white wine. For more flavor, you can add the readymade meat marinade. Take your choice of steak in a shallow dish and pour the marinade to cover the piece. Refrigerate this for a minimum of 3 hrs by occasionally turning the steak. While grilling the steak, frequently brush with the marinade. The remaining part of the marinade can be used by heating and pouring over the done steak slices.
Teriyaki BBQ Marinade
Add same part of soy sauce and white wine in a medium bowl. To this, add onion flakes, mustard powder, parsley flakes, minced garlic and honey; and blend properly. Marinate your choice of meat into the marinade for overnight. Frequently use the marinade to brush over the meat, while cooking.
Red Wine Marinade
To prepare this marinade, you should take almost same part of dry red wine and olive oil. Next you should add lemon juice or vinegar, crushed garlic, chopped onions and few bay leaves to the mix to combine well. Take a big bowl to marinate the meat in the marinade by occasionally turning the pieces. To get the best flavor, marinate overnight and then cook.
Mustard&Red Wine Marinade
Combine the red wine and vegetable oil in a small bowl and to the mix, add Dijon style mustard, minced garlic, dried Italian seasoning and freshly ground black pepper. Blend thoroughly and then pour this over the meat for overnight marinating.
Grilled Chicken Marinade
Take a medium sized bowl to mix same part of soy sauce, vegetable oil and red wine. Now add oregano, sweet basil, chopped parsley, garlic powder and freshly crushed black pepper into the mixture. Blend well and put the boneless chicken breast inside the marinade for overnight inside the refrigerator. Use the remaining marinade to baste the chicken breasts during grilling.
Image Courtesy: cookingforhealthtips.com
How To Make Wine Marinades – Add Flavor In Style