How to Make Strawberry Wine in a Short Period of Time
29 Apr 2010
Before telling you about how to make strawberry wine in a short period of time, you need to tell us whether you feel bored of gulping traditional grape wines? Then its right for you to go for strawberry wines. Strawberry wines are light and fresh. Strawberry wine can be made in as less as 30 days. But as they say, the longer is the wine's age, the better is its taste. Here is a step by step procedure which shows you about how make strawberry wine in a short period of time.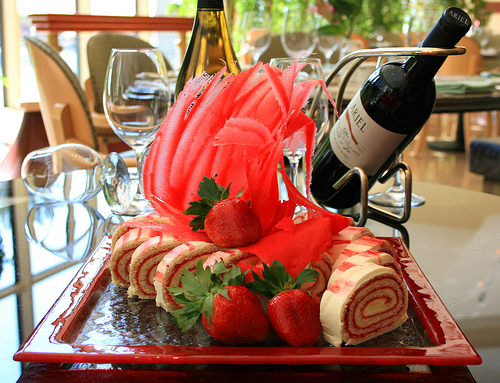 Step 1 :  Take an 8-quart saucepan and add  4 pounds of fresh and sliced strawberries to ti , along with 2 pounds of sugar.
Step 2 : Heat this mixture for an hour over medium heat. Stir them in order to break the strawberries and dissolve the sugar. 
Step 3 : Line a colander with numerous layers of cheesecloth. Take a big bowl and put the strainer in it.
Step 4 : Sieve the strawberries through the strainer in a way that the fruit juice gets collected in the bowl which is kept below. The mashed strawberries can be used as toppings .
Step 5 : Take a one-gallon jug and pour the strawberry juice in it. The jug must be filled up to 2 inches from the upper opening. Add water to raise the level of the juice up to this level, if required.
Step 6 : Add  a package of wine yeast to this jar.
Step 7 : Make three holes in one balloon using a pin. In case it expands, so much so that it pops, keep the second balloon ready for use.
Step 8 : Stretch the ballon over the opening of the jug and stuff the remaining balloon into the jug using your fingers. 
Step 9 : Put the jug in some warm place, and  allow the mix to ferment. In a day's time the balloon must start inflating out of the jug.
Step 10 : When the balloon deflates completely, remove it from the jug. All this will not take more than 30 days. The wine is drinkable now. It must be poured into bottles and stored in a refrigerator.  
How To Make Strawberry Wine In A Short Period Of Time