How to make clarified butter – in five simple steps
Clarified butter or drawn butter as it is referred to, is one ingredient that I feel adds that special flavor and taste to my hollandaise sauce. The buttery texture and the rich taste make it so very good. A few years back if you would have asked me how to make clarified butter I would be left with just one answer "I do not know". However, I have discovered the beauty of the clarified butter a golden yellow rich liquid that can make a big difference in any dish it is added. I have learnt that making it is not the tough task it is made out to be.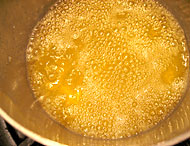 Butter separated from the water and milk solids is what "Clarified butter" is, to put it in simple words. It is rather easy to make the clarified butter. However, there are a few simple tips you need to keep in mind. Clarified has a higher smoking point as compared to butter. This makes it a great cooking medium for stir fry and sauté. It lends the dish a creamy buttery flavor and taste that is so very good. Clarified butter also has a longer shelf life. It can be stored for a few months. This definitely makes out a strong case for the clarified butter and for me it is a winner with so many positive aspects.
"How to make clarified butter" in 5 simple steps is what this post is all about. If you haven't yet tried making clarified butter, this is your chance to making it, right in your kitchen.
1- Take a saucepan with a thick flat bottom, and add in the slab of unsalted butter. Remember to work on a low temperature. Butter would start smoking and turn brown at a high temperature and so patience and going slow is the key here.
2- When the butter melts and slowly start boiling the water content in it would evaporate.
3- You would observe a froth formation on top of the melted butter. Take off all the froth using a spoon or a ladle. What you would see beneath the layer of the froth is golden yellow shining "clarified butter".
4- At the bottom of the pan you would find a layer deposited, this is the milk solids which have found their way down to the bottom. Let the butter boil and when you observe that the layer of milk solids at the bottom is turning golden in color it is time to turn off the stove.
5- Do not leave the butter on the stove for long or else it would start turning brown and what you would have left is brown butter and not clarified butter. Let your clarified butter cool. Now sieve through a fine sieve or a sieve lined with a damp cheese cloth. Store in an airtight container and you can enjoy it for a long time to come.
Making clarified butter is a one time effort and after that you can reap the fruits of labor for days to come. Enjoy using them in your baking recipes, dressings, stir fry and even for sauté. Bon Appetit!!
Pic courtesy: www.nytimes.com 
How To Make Clarified Butter – In Five Simple Steps