Tips To Make Marzipan Balls For A Perfect Dinner Party

27 Jun 2012
Cooking for special dinner guests can be difficult and the most difficult course is dessert. Most guests don't want anything heavy or too sweet and marzipan balls are ideal for this reason. Marzipan is made by combining almond flour or almond meal with egg white and sugar and the balls are very nutritious. Almonds are rich in good fats and egg whites are low in fat but high in protein. You can substitute the sugar with agave nectar to form a nutritious low-sugar, low fat dessert that will please everyone. We've listed a few of our top tips that you can use to make perfect sweet marzipan balls that will form a great ending to your dinner party.
Making the Perfect Marzipan Balls For a Special Occasion
1. Choosing the Ingredients
Almonds – Finely ground almonds or almond meal forms the basis of marzipan. You can buy the almonds and blanch them before grinding them into fine flour. If you don't want to grind the nuts yourself, you will be able to find ready ground almond meal at supermarkets. If you want to a nut-free marzipan, you can use soy bean paste and almond essence. You can also make a variation on marzipan called persipan which is made from peach kernel flour or apricot kernel flour and rosewater. Ideally, any nut can be used to make flour and marzipan dough.
Binder – Different types of binders may be used to bind the almond meal into a ball. Most confectioners use whipped egg white as it is soft and imparts a milk-white appearance to the marzipan dough. For an egg-free version, you can use rosewater, cherry brandy, rum flavoring, lemon juice, orange essence etc.
Sweetening Agents – Most chefs use powdered sugar but you can also use honey, agave nectar, jaggery etc
2. Making the Marzipan Balls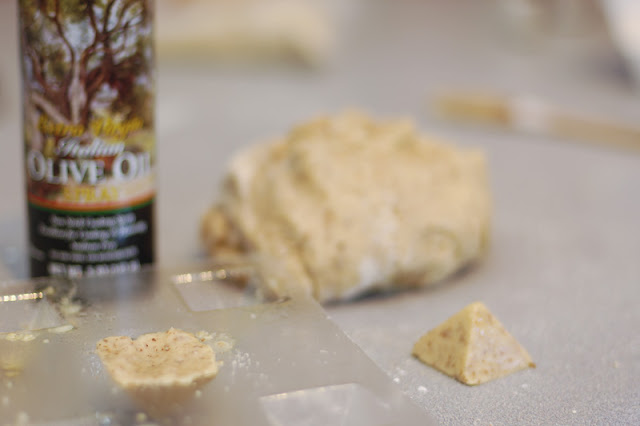 The ingredients are mixed together to form a firm but moldable dough. If you want to make colored versions, you can easily divide the dough and color it with food coloring. The dough is very moldable and it can be shaped into any variety of shapes. If required, the marzipan balls can also be dipped into chocolate, sugar sprinkles or any variety of decorations. There is no need to cook the marzipan balls.
Tip
Readymade marzipan blocks are sold at most bakeries and supermarkets.
You can use egg yolks for a richer color and taste in your marzipan dough.
Marzipan balls are a great way to end a meal. They have a light nutty taste and particulalry nutritious due to the almond content. Marzipan dough can also be made well in advance and then rolled into balls just before serving. Do you have a better recipe for marzipan balls? Do write in and share it with us.
Image Credit – tradewindtiara.blogspot, zsuzsaisinthekitchen,
Tips To Make Marzipan Balls For A Perfect Dinner Party