Tips To Wrap Dressing In Bacon
Preparing an unusual starter is possible by combining bacon with dressing and other ingredients. You can make a great bacon, salad and dressing wrap which can be consumed in a single bite. The dressing may be liquidy though and it cannot be served by itself. We suggest you use stiff ingredients like steamed vegetables and meat. These ingredients can then be dressed with several different types of salad dressings, herbs, spices and flavored salts to create a bacon and dressing wrap or roll.



How to Dress Bacon with Salad Cream To Make A Wrap



1. Choosing Ingredients and Bacon
You will have to use stiff ingredients like steamed vegetables and cooked meat in the roll. These ingredients can be seasoned with a range of dressings before making a roll. You can also thicken the dressing by mixing it with other ingredients and then stuff it into the bacon wrap. For stiffness, chefs may wrap the bacon and dressing-stuffing with pita breads, tortillas, chapattis etc. For example, popular dressings that are used with bacon include the following-



Avocado and lime dressings can be prepared by mashing avocado with lemon juice and bacon flavored salt.




Vinaigrette dressings are prepared by whipping together olive oil, bacon flavored salt and lemon juice.




Baconaise - flavored dressings are prepared by using commercial baconaise with cubed onions, tomatoes and avocados to create a dressing.




Creamed spinach dressing is also a very popular dressing that can be used as a stuffing. The spinach may be pureed with onions, garlic and bacon salt and then used as a stuffing inside the bacon wrap.




You can also use commercial readymade dressings like honey mustard, barbeque dressing, Thousand Island, French dressing to season the ingredients in the wrap
For this wrap, we particularly recommend the use of a low-fat, meaty bacon like Canadian bacon which will be able to hold in the dressing and vegetables in the wrap.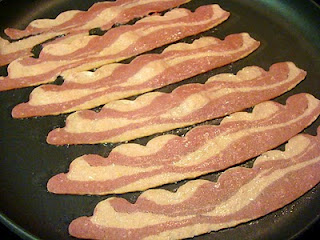 Tips



If you are using readymade dressings, use low fat versions which will cut down the fat content of the dish.




Use flavored bacon like Applewood-smoked or Maplewood-smoked to provide taste to the dish.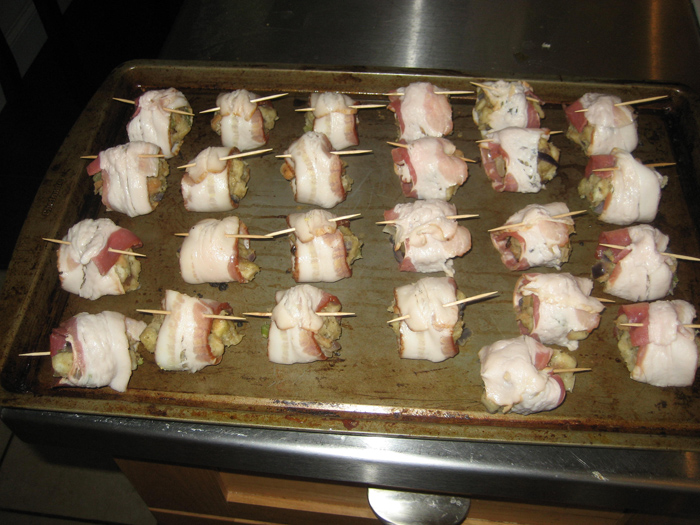 Rolls filled with bacon and dressed ingredients are easy to make as you can use any ingredient in it. However, high fat dressings and bacon can make these rolls very filling. We suggest you use low fat ingredients or eat in moderation.
Do you have special dressings that you use with bacon wraps? Do you make your own or like a particular commercial mixture? Let us know about it here.
Image Credit -  cubaninthemidwest.blogspot,