Tips To Wrap Zucchini In Bacon

21 Jun 2012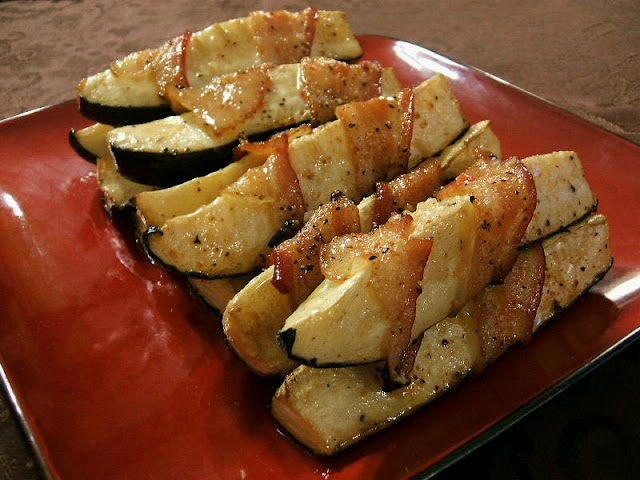 It's difficult to make children eat vegetables like zucchini but we have a foolproof method which literally guarantees that your children will eat all of it and ask for more. Bacon wrapped zucchini is a wonderful way of adding flavor to a simple vegetable. All you have to do is slice the vegetable, wrap it with bacon and grill; and you're good to go. In fact, bacon wrapped zucchini is an ideal appetizer or snack for adults as well. It can be seasoned with spices and herbs and prepared in bite-sized versions for dinner parties or special events
How to Prepare Bacon Zucchini Wraps In A Few Simple Steps?
1. Choosing, Seasoning and Preparing Zucchini
Zucchini is readily available at the fresh food counter of the supermarket. Choose a vegetable that is firm but evenly colored. Make sure that there are no discolored patches on the surface of the vegetable. You can cut the vegetables in to any shape like rounds, strips or sticks so that they can be wrapped with bacon. Ideally, any variety of seasoning can be used on the vegetable but we recommend the use of just butter and garlic. You can use also use readymade seasonings like Creole seasoning, bacon salts, jerk seasoning etc to flavor the vegetable.
2. Choosing Bacon
Any variety of bacon can be used to make the dish. We suggest you use low fat turkey bacon for a low fat version of the dish. For a vegetarian version, you can use fake bacon or textured vegetable protein. You can also use flavored bacon or pancetta.
3. Preparing and Serving
Wrap the bacon around the seasoned zucchini and season the roll again with your choice of seasoning. This wrap can be grilled, roasted, pan-fried and baked. Zucchini cooks very quickly and you should keep a close eye on it to prevent burning. Serve with a fresh salad or a creamy dip.
Tips
Zucchini cooks quickly and it has a very delicate taste. Do not buy zucchini that that is more than three days old as it will be dehydrated and it will not cook well.
Do not pick vegetables that have been chilled as they will not be able to hold their shape during the cooking process
Bacon wrapped zucchini makes for a delicious appetizer or side dish at a barbeque. How do you prepare your bacon wrapped zucchini? Share your tips with us here.
Image Credit -pelletsmoking,
Tips To Wrap Zucchini In Bacon