Tips To Wrap Mango In Bacon

21 Jun 2012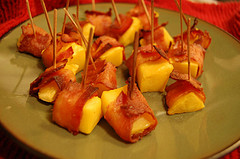 Fresh fruits can impart a lovely bright taste to absolutely any meal. Tropical fruits like mango are the best as they have a unique taste. Most chefs serve the fruit as a dessert but you can create a unique starter with it.  You can wrap mango with bacon to create a completely new sweet and savory dish that is worth mentioning. As a fruit, mango is very rich in phytochemicals and nutrients but the sweet taste is very good with bacon. The meat is cubed and the bacon is wrapped around it to create a luscious sweet and savory appetizer. We listed a few tips on how to prepare mango bacon wraps quickly and easily.
Making Your Version of a Mango Bacon Wrap
1. Choosing The Mango and Preparing It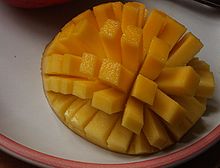 Fresh mangoes are available during the summer season. A ripe mango may be light green to dark yellow in color and it may be a little difficult to discern the ripeness of the fruit. Choose a fruit that is firm but yield gently when pressed. Avoid all squishy-feeling fruits. We suggest you watch a video on how to pick a ripe fruit and prepare the mango flesh for wrapping. If you are still not sure about fresh mangoes, we suggest you pick canned mango meat. Canned mango will have sweeter taste but it will be cubed and ready to use. Although the fruit is very sweet, the taste combines particularly well with chili sauce, olive oil, salt, vinegar, sour cream, mayonnaise, curry powder, lemon juice, onions, black pepper, toasted peanuts, toasted pumpkin seeds, or soy sauce. You can choose to season the mango cubes or slivers with flavoring ingredients or you can leave it as-is. Ripe mango chunks or skinned slices can be very soft. To add consistency to the wrap, chefs like to add ingredients like salad leaves and avocado slices to the mango to add taste and texture.
2. Choosing the Bacon and Preparing It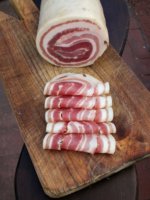 We suggest you use flavored Virginia bacon which will combine particularly well with the sweet flavor of mango. Sauté the bacon till crispy and drain the excess fat. You can season the bacon with pepper before wrapping.
3. Preparing and Serving
You can wrap the crispy bacon around the mango and other ingredients and secure it in place. Serve the mango bacon wrap warm or chilled as an appetizer.
Tips
Mangoes are available in a range of tastes, consistencies and flavors. A few varieties can turn incredibly mushy when ripe. If you aren't sure about flavor and consistency, ask your grocer for guidance.  
You can also use raw mango but it has a sour taste which can be a little strong.
We do suggest you use canned mango for a uniform taste or buy a single variety of mango
Bacon wrapped mango is a great appetizer that can provide a sweet, sour, spicy and fatty taste in a single bite with the right seasoning. If you have any particular seasoning combination that you use, do let us know by writing in to us here.
Image Credit -  wikipedia, kitchenwords.blogspot,
Tips To Wrap Mango In Bacon