Tips To Make Chocolate Balls For A Perfect Dinner Party

19 Jun 2012
Chocolatiers make several versions of chocolate balls that are usually served as snacks or desserts. These delicious balls may seem complex and difficult to make but they really aren't all that difficult.
To impress your dinner guests, we've listed a few simple tips that you can use to create the perfect sweet chocolate balls in a few minutes.
Creating the perfect chocolate balls from scratch
1. Cake-Based Chocolate Balls
Cake-based chocolate balls are made by shredding chocolate cake. If you don't like chocolate cake, you can also use vanilla-flavored sponge cake or fruit cake to create different flavors and textures in the chocolate balls. The crumbs are combined with flavoring ingredients like melted chocolate, rum, vanilla essence and honey. The liquid ingredients serve to bind the crumbs together to form a ball. Additional ingredients like nuts and chocolate chips may be added to the cake balls during rolling. The balls may then be rolled in chocolate chips, sprinkles or sugar sprinkles and then set aside to chill. These balls are the easiest to make as they do not require any cooking.
2. Cookie-Based Chocolate Balls
Cookie-based chocolate balls are prepared in almost the same way. Any variety of cookies can be used but chocolate cookies are the best. Oreos are the best and they can be combined with vanilla-flavored white cookies to create two-toned chocolate balls. Crush the cookies in a plastic bag and mix the crumbs with honey, butter or cream to bind the crumbs together. You can also add nuts, dates, chocolate chips etc to the mixture to make the balls. These balls can also be coated in white or dark chocolate and chilled before serving.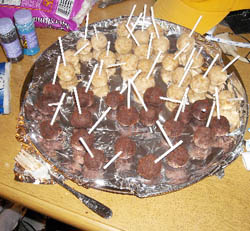 3. Chocolate and Cream - Based Chocolate Balls
Cream-based chocolate balls are a little difficult to make. In a double boiler, chocolate is melted with cream, butter, corn syrup and brandy till it is thick and moldable. The semi-cooked mixture is then rolled into balls and dipped in cocoa powder to make creamy chocolate balls. This version is probably the best and must luscious variety of chocolate balls that you can make but it is very technique sensitive. Overcooking or undercooking the chocolate-cream mixture can result in a horrible sticky mess.
Tips
Chocolate balls freeze well and they can be made up to a month in advance. Store in a closed container in a chilled place.
The same chocolate balls can be served with a stick to make chocolate lollipops or chocolate cake pops.
For a more professional look, serve each chocolate ball in a cupcake liner with sugar sprinkles, edible glitter etc on top.
Raw vegan versions of chocolate balls can also be made by using cocoa, honey, agave nectar and dates.
Chocolate balls are very easy to prepare. We suggest you make them well in advance and store them till required. Of course, they are so delicious that there is no guarantee that you family is going to leave them there.
How do you make chocolate balls? Do you have a unique version of preparing them? Do write in to us and share your tips with our readers here.
Image Credit – ifood.tv, mightywedding.blogspot,
Tips To Make Chocolate Balls For A Perfect Dinner Party