Tips To Make Nut Balls For A Perfect Dinner Party

19 Jun 2012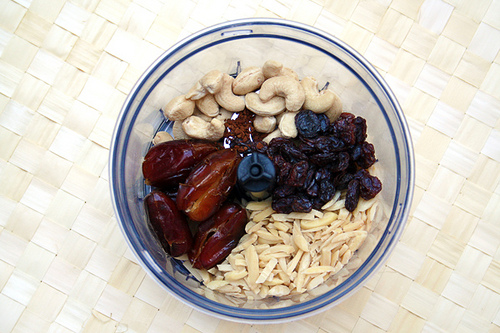 Nut balls are a perfect finger food item that can be served during dinner parties. As there are several different varieties of nuts, a large variety of nut balls can be created with a range of different flavors and tastes. One major advantage of this dish is also that nuts are rich in good fats. Sugar-free, uncooked nut balls can make a very nutritious snack for vegans as well.
Making Delicious Nut Balls Quickly
1. Choosing the Nuts
There are so many varieties of nuts in the market and you can pick and choose any variety that you want.  You can choose from a few of the nuts that we have listed below but the choice is completely yours.
Cashews are particularly high in magnesium. They do contain unsaturated fat which is mostly in the form of oleic acid which is also found in olive oil. Cashews also contain more than 5% of the RDA of Vitamin K and Iron. These nuts are available in roasted and raw form and both can be used to make nut balls.
We particularly love Brazil nuts simply because they are the high in selenium, manganese, magnesium and vitamin E. They also have a coconutty taste which combines particularly well with palm sugar and dates.
Pistachios are also great in taste and texture and the vibrant minty green color is fantastic in nut balls.
If you do not want to use just one type of nut, you can also use mixed and flavored nut mixes which will contain several nuts which can be used to make the nut balls.
2 Making the Nut Ball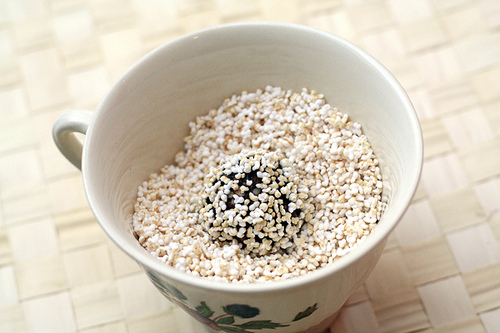 Nuts usually have a fatty, slightly sweet taste which combines well with almost any ingredient. All you have to do is combine the nuts with sweetening agents like agave nectar, jaggery, coconut, sugar, poppy seeds, puffed rice, dates, dried cherries, honey, flax seeds etc to make no-cook versions of nut balls. This mixture can then be rolled into balls. Liquid agave, honey and jaggery are usually used to bind the ingredients of no-bake nut balls together.  You can also bake nut balls by adding partially powdered nuts, nut powder or whole nuts to flour, baking powder, sugar and vanilla. This forms a stiff dough which is then rolled into balls and rolled to form nut balls. Spicy versions can also be prepared by combining roasted nuts with tofu, onion, vegan butter, cumin, coriander, turmeric, cayenne, garlic, sugar, cinnamon, allspice, and TVP or textured vegetable protein. These balls may be sautéed, deep-fried or baked to make nutballs.
Tips
Raw nut balls are very easy to make. The nuts can be processed in a food processor in ten minutes to make a thick powder. The powder can be bound with sugar or honey and then rolled into balls.
To add flavor to the nut balls, you can always add cocoa powder or food coloring to make flavored and colored nut balls.
You can serve the baked balls in a sweet and savory sauce to make a side dish.
Nut balls are delicious and easy to make snacks that take less than twenty minutes to make. They make for delicious snacks or appetizers and can easily be made well beforehand. If you have an easier recipe for making nut balls, do write in to us here.  
Image Credit – inspireyourdreams, islaborg.blogspot,
Tips To Make Nut Balls For A Perfect Dinner Party