Tips To Wrap Shrimp In Bacon

13 Jun 2012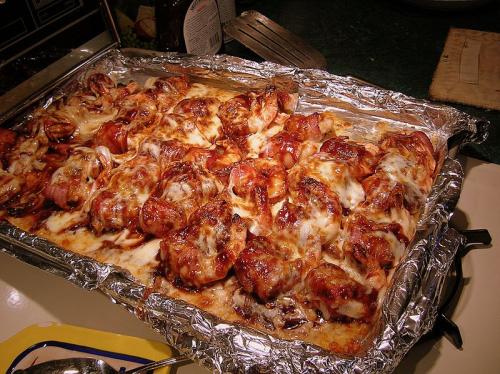 Searching for the perfect bite-sized appetizers for your dinner party? Well-seasoned plump shrimps with slices of fatty bacon wrapped around them are just the thing. You can find a huge variety of shrimps at the fishmongers and they are even available as canned precooked varieties. You can vary the spices and herbs that you're using and create many different varieties of appetizers with the same basic ingredients. We've a few simple guidelines that should help you prepare perfect bacon wrapped shrimps.
How To Cover Shrimps with Bacon
1. Selecting and Cleaning Shrimp
Always select fresh shrimp that has been stored on ice. Ensure that the head is firm and does not hang down. The fishmonger may clean the shrimp for you. If he does not do so and you don't know how to clean shrimp, you will be able to find instructional videos or you can use frozen or canned shrimp. Try to find Individually Quick Frozen or IQF shrimp or 'wild-caught USA' varieties as they have been frozen quickly and they will taste better. There are several varieties that are commonly found but white shrimp or coldwater shrimp are the best for this dish. Store frozen shrimp till just required and then use quickly.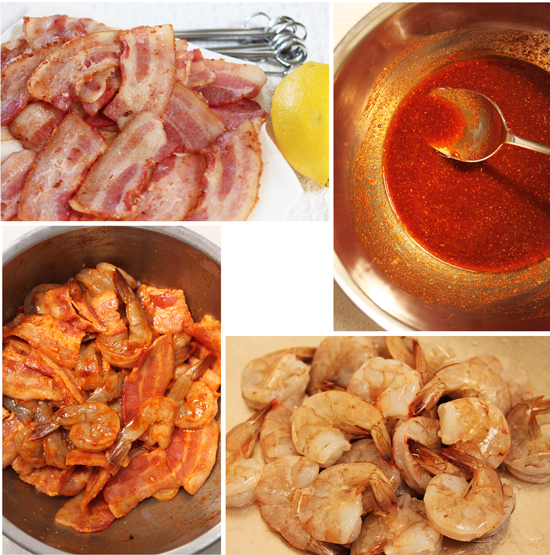 2. Selecting Bacon
Choose low fat, lean organic bacon varieties for this dish. Low-fat bacon is the best as shrimp is rich in iodine and protein but it is also high in cholesterol. The added fat content of bacon may make this dish vary heavy. If you cannot find low fat versions, Virginia-style belly fat bacon is the most commonly used bacon and it is also available in a range of flavors. We suggest you use flavored varieties like applewood-smoked bacon or peppered bacon which are low in fat and which will lend their own flavor to the shrimp.
3. Flavoring Ingredients
The shrimp can be flavored with almost any variety of spices and herbs. For example, most chefs like using readymade barbeque sauce, teriyaki sauce, peanut sauce, spicy chili sauce etc as a marinade for the shrimp. You can also choose to just season with salt and pepper and then wrap with bacon.
4. Preparation and Serving
Wrap the flavored and seasoned shrimp in bacon and set aside to chill. This will allow the flavors to seep into the shrimp.  You can barbeque, bake, grill,  or sauté these parcels and serve them with fresh salads and dips. Please note that shrimp cook very fast. The exact cooking time will vary but as soon as the shrimp turn pink, they are done.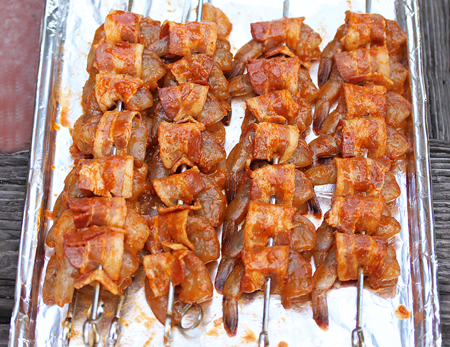 Tips
Frozen shrimp will have a number labeling on the packet that indicates the number of shrimp in the pack. The higher the number, the lesser the number of shrimp in the pack. It also means that the shrimp are larger in size. Salad shrimp will be rated about 96+ while adult and jumbo sized shrimp will be rated 10 -21.
You can sprinkle bacon-flavored salt on top of the shrimp in the end to add an extra bacony kick.
You'll actually be surprised at how quickly these will disappear at a party. They make the ideal finger food as you don't have to chop them or cut them into pieces and they are super-delicious. Do you have any variations on this recipe? Let us know by writing in to us
Image Credit – ifood.tv. cookandbemerry
Tips To Wrap Shrimp In Bacon