Tips To Wrap Beef In Bacon

12 Jun 2012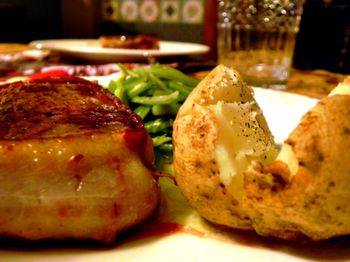 Are you planning a dinner party for guests? Wondering what to cook? Wrapping bacon around beef is an excellent method of livening up lean or tough cuts of beef. The bacon forms a thick fatty blanket around the beef and ensures that the meat remains moist and tender.
Almost any cut of beef can be used to create the dish but the cooking time will vary according to the beef cut you are using. Take a look at our top tips on how to prepare bacon wrapped beef in a few simple steps.
How to Prepare Beef Steaks with a Bacon Shell?
1. Selecting and Preparing the Meat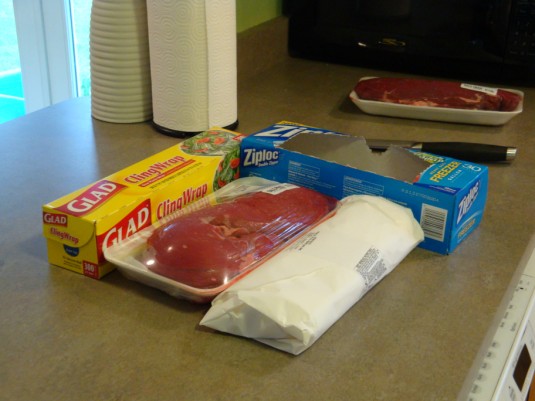 If you are planning to serve this to your guests for a dinner party, it would be a good idea to use small cuts of meat like filet mignons or tenderloin medallions or a prepared sirloin. Ask the butcher to prepare the cuts of meat for you by making them uniform in size and shape. On an average, one steak per guest is quite sufficient but you can serve two if the steaks are small in size. If you are planning on making a beef roast, then it's a good idea to buy a large cut of meat and then wrap the whole roast with bacon strips. Ideally, most chefs recommend brining larger cuts of meat for 6-10 hours beforehand to ensure a moisture and softer roast. Just before roasting, wash off the brine, season the meat with kosher salt, spices, herbs and sauces and wrap with bacon. You can season the meat with any variety of spices but remember to check the salt content as you are using bacon as well.
2. Choosing the Bacon
A fatty cut of bacon is ideal for wrapping tender as well as lean cuts of beef. Most chefs recommend the use of center cut bacon or streaky bacon for the best taste. You can also use flavored bacon like Maplewood smoked, Applewood smoked, hickory smoked, honey glazed or mustard flavored bacon as it will impart a lovely smoky flavor to the meat and to the pan juices.
3. Preparing the Bacon Wrapped Beef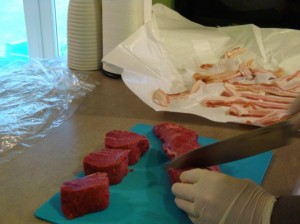 If you are just wrapping small steaks, you can wrap the beef around the steak and set them aside till required. For a larger roast, season the meat and then layer the bacon on top of the roast.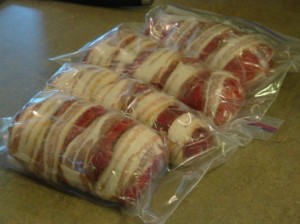 4. Cooking and Serving the Wrapped Beef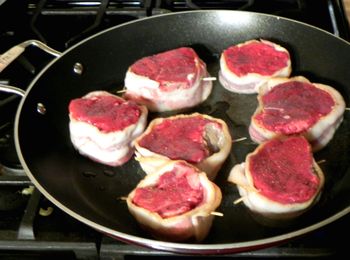 The best way to prepare the meat is by roasting. Preheat the oven to 400F and roast till done. You can also choose to grill delicate cuts of meat. Please note that roasting times will vary according to the diner's preference. The roast can be prepared rare, medium-rare or well-done and meat internal temperatures will vary according to the degree that the meat is cooked. Rare meat should be around 120 -125 degrees, medium –rare is about 140 - 150 degrees and well-done is anything above 150 degrees. We don't really recommend well-done for delicate cuts of meat like tenderloins and filet mignons. Remember to wrap the meat in foil and let it rest for ten minutes before serving to allow the bacon flavors to mingle with the meat.
Tips
If you are using a large cut of meat, you can prepare small medallions from it. Use the bacon strips as a guide while cutting to judge thickness of the meat.
The medallions can be wrapped with bacon and frozen for later use. All you have to do is just remove, defrost and roast.
Ensure that the flavors of the bacon and the marinade you are using suit each other. Do not complicate the flavors too much as all you want is the smoky fatty taste of bacon.
Bacon wrapped beef is delicious if its cooked properly. It can be served with a fresh salad, herb butters and mashed potatoes to make a complete meal. If you have the time, collect and filter the pan drippings to make a delicious sauce.
Image Credit – thisfullhouse, foodformyfamily
Tips To Wrap Beef In Bacon