Tips To Steam Garlic

27 May 2012
561226-tips-to-steam-garlic.jpgsaxei5efct4nwasxkraemqpiucqved0cakq8wcusgafqjcnhr8phbpntvikrckiovpobpcwytjwAn easy alternative of roasting garlic is  steaming which takes just 10 minutes (compared to 60 minutes of roasting). Next time you do not have to wait for an hour for the last minute addition to any pasta - just steam the garlic. If you steam it well, you are going to get some truly delicious results. Here are some quick and easy tips for you to try this out:
Full head garlic or individual cloves?
If this question comes in your mind often, then you should know that steaming both of these forms will yield the same results. If you steam it rights, the garlic will melt in your melt just as sweet garlic paste which roasting process offers.
Use unpeeled garlic:
Peels usually safeguard the nutrients and prevent them from escaping while cooking. To retain all the nutrients, do not peel the garlic. Steam with their peels intact which you can slowly remove once well steamed.
Use right equipment:
You need not use the same equipment which you use for cooking chicken, pork or fish when you are steaming garlic. You can make use of stainless steel pasta strainer or even a steamer basket for cooking.
Time and temperature: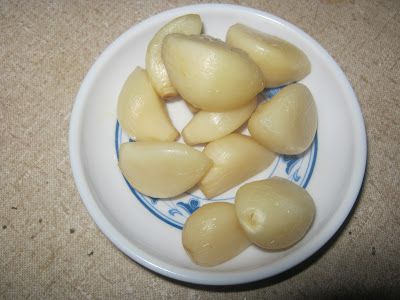 Garlic takes very little time to steam – check for the tenderness between 8-10 minutes. The ideal temperature for steaming is 155- 170 F.
Checking garlic:
How will you know that your garlic is completely cooked? Perfectly steamed one will turn into a very smooth taste and will have the flavor of roasted garlic. It is high in nutrion and is known to be very good for digestion.
You can use this immediately. Use them with your bread and in sandwiches, add these to pasta sauces and toss them with green salads.
Image credits:naturelivings.blogspot,
Tips To Steam Garlic