Tips To Steam Codfish

8 May 2012
Cod or codfish has a  flaky texture with a  mild flavor.  Though there are many different ways to prepare the fish, steaming is considered to be easy and quick.  Here are a few tips for steaming it.
Steaming in a basket:
The first step is to rinse the fish fillets under cold water. Once the fish dries well, you can pat it dry using paper towels.
The fish can then be placed in a steamer basket with just 1 inch of boiling water.
The usual recommended steaming time is 10 time after which the fish can be checked to see if it is cooked. If it flakes, it means the fish is well cooked.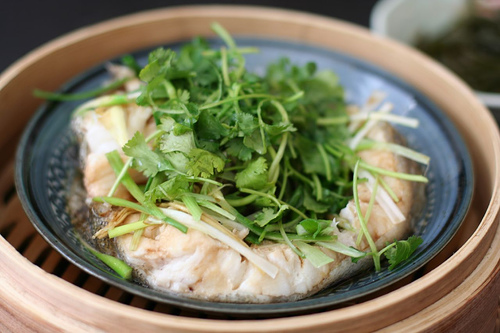 Without a basket:
Wash the fish fillets as usual and dry it to get rid of excess water.
A heat resistant plate needs to be placed on the top of the steamer so that it is covered completely. Since, a basket will not be used, the cod can be placed on this plate.
Place fish fillets at certain gaps so that these do not touch one another. If they stick it will be difficult to remove them when cooked.
You need to steam the cod for 10 minutes till the fish flake completely. You can take a fork to check if the cod is cooked.
Using a foil for steaming:
You have to wash the fish fillets well under cold water. Once well rinsed these can be patted dry with paper towels.
You will need aluminum foil to wrap the codfish. This needs to be large enough to wrap the fish.
Remember to brush the foil with olive oil. This is important so that the fish doesn't stick.
Use seasoning or a slice of lemon to flavor the fish.
You have to ensure that the foil is well pinched so that steam develops well.
The sealed fillets can be steamed for 15 minutes.
560899-using-a-foil-to-place-cod-fillets.imagesqtbnand9gcqrquzx6ocypccnr9h7fz1myoyvginqgituh5jp83e0cg-sfbtvwrsy0xdpua
More tips:
If you are removing aluminum foil, just be extra careful or you may burn your fingers.
You can add ingredients like chopped ginger, minced garlic or green onions to get the extra taste.
These tips will help you to prepare some of the best steamed fish recipes which you can serve with hot rice.
Image credits: yummykoh, jenjapan.wordpressm fishermansgourmet, gaijin-gourmet
Tips To Steam Codfish