Tips To Steam Beet

12 Apr 2012
One of the most recommended diet dishes is steamed vegetables where beet is used in abundance. Steaming the vegetable is quite easy and if you do it well, your recipe is surely going to be delicious. Here are some tips and suggestions which will help you in steaming the root vegetable quickly and will give you the best result as far as taste is concerned.
Beet Steaming Tips:
Make small slices:
Cut your vegetables into small slices and make all of these of uniform size. If you use large chunks of beet, they will take longer time and you can overcook them too. It is best if you an have baby beets for steaming.
Washing thoroughly:
Wash all the pieces thoroughly to get root of dirt and pesticides. Wash them in running  water.
Cutting the vegetable
You have to separate the green tops from the beetroot. Just leave half inches from the stalk and keep the root of the beet intact.
Arranging the beets:
You will have to place all the vegetables in a single layer for steaming. If you plan to steam a large quantity of vegetable, you can place the beet as a loose pile.
Steaming time:
It usually takes 40 – 50 minutes to steam 2 pounds of fresh beets which depends a lot on the size of the beets. You can check the tenderness of the beet when you use a sharp knife to pierce the center of the beet and it goes smoothly into the vegetable.
You can serve steamed beet sprinkled with lemon juice, additional butter and other vegetables. It can be served hot.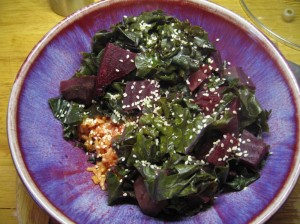 So, what are you waiting for? Prepare your favorite steamed beetroot dish and impress all!
Image credits: purplepoops, sustainablenourishment
Tips To Steam Beet