Tips To Steam Broccoli

5 Apr 2012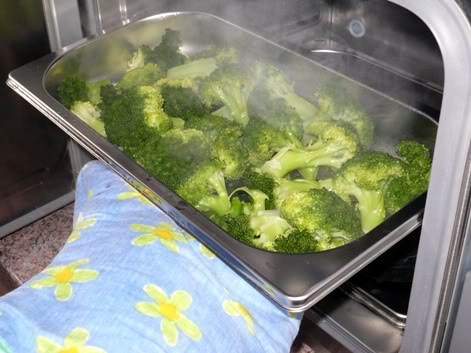 If you have tried out steamed broccoli you will know that  these make delicious and nutritious side dishes. Steaming broccoli does not take much time and makes your food healthy. It is also a quick dish and can be prepared in a jiffy.  Here are some easy tips which will help you with the steaming process. 
Different Methods For Steaming Broccoli 
In a pan:
This is the most preferred way to steam broccoli. When you are steaming these in a pan, you will need to add the right quantity of water. Remember to add some salt and cover the pan. Let the broccoli steam for 3 minutes so that they turn crisp and tender.
In a steamer basket:
This is the oldest and most convenient method of steaming vegetables. You just need to place the trimmed and very clean broccoli florets in the basket and set it on boiling water. Be careful not to steam more than 8 minutes.
In a microwave:
When you are steaming broccoli in a microwave you have to remember that you do not steam it for more than 1 minute. The microwave should be on high flame. Before you remove it from the microwave, do not forget to check its doneness and if it is not tender enough you will have to put it back into the microwave for further steaming.

It's easy to steam broccoli and you do not need to have plenty of experience for it – just ensure that you steam it for the right duration and you are sure to have a delicious and nutritious veggie dish to surprise your guests.
Image credits: collegeceliac, desarapen, cathykennedystories
Tips To Steam Broccoli