Tips To Remove Garlic Odor
27 Mar 2012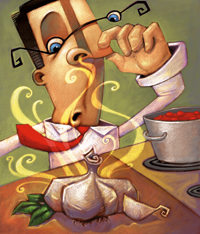 Garlic is of course a  highly medicinal spice and makes  various culinary preparations yummy to taste. But no garlic lover would prefer having its odor lingering on the hands, kitchen or any where at home as the  smell is regarded to be too pungent. If you are really bothered about the strong and powerful odor of garlic, here are some ways to get rid of it. Read on to know more.
Tips To Remove The odor of Garlic 
For removing garlic odor from hands:
Put a little salt or baking soda on hands and rub them together. Rinse with water.
Squeeze toothpaste or pour a small amount of mouthwash on one hand and then rub hands together. Rinse with water.
Squeeze the juice of lemons into a bowl. Immerse your hands in the liquid concentrate for 3 minutes and then rinse off with luke warm water.
Rub hands across a stainless steel utensil/plate under running tap water.
For removing garlic smell from tupperware or any container:
Fill the container with hot water. Add a cup of vinegar and let it overnight. Wash it with mild detergent the next day morning.
For removing garlic smell from cutting board:
Cover it with a thick kitchen soda paste, sodium bicarbonate and a little amount of warm water and let the mixture be on the board for about 15 minutes and then rinse off.
Avail the culinary and health benefits of garlic by means of a good meal, without the problem of its strong smell because you can very well ward off garlic odor by following the above mentioned tips.
Image Credit: point-alaligne.com ; imsa.edu
Tips To Remove Garlic Odor