How To Make Mint Wreath

20 Jan 2012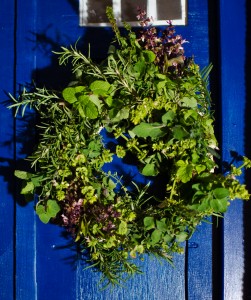 How about a wreath decoration for special occasions? Mint wreaths are fresh, fragrant, and easy to make. They can be made ready within a matter of minutes and would emit a fresh smell that would keep your surroundings fragrant. All you require for making these are a few mint cuttings. Mint grows profusely in kitchen gardens and this time when you are trimming them, make a lovely wreath decoration for your door. The herb would remain fresh for about 3 to 4 days after which they would dry up. The decoration would have to be discarded once the leaves turn black. Nevertheless, this wreath with its short shelf life is worth the time due to the freshness it spreads around. Let us get one ready now…
Steps to Make Mint Wreath
A foam or cardboard wreath frame would be required as the base wreath. A square shaped wreath would also do fine.             
Bunch together about 8 sprigs of mint and place this on the wreath frame.
Using duct tape secure it to the frame. Loop the tape all the way behind and back again on top of the bunch while attaching.
The next bunch should be taped in a manner that the leaves cover the duct tape of the first bunch.
In this manner, completely cover the wreath frame with mint bunches. Ensure that the base wreath frame is not visible at all.
Decorate mint wreath as desired.
Watch how to make a herb wreath using various herbs and pick up some tips on making a mint wreath on similar lines.
Ideas for Decorating Mint Wreath
Mint wreaths are beautiful, green, and fresh. They are elegant by themselves, however some dried berries can add to their fresh look.
Use other herbs like rosemary along with mint for making a herbal wreath.
Mint wreaths would last longer hanging outside your front door. The cold winter air would keep it fresher for a longer time.
Image credit: boylese.com ; maplewoodnjgardening.blogspot.com
Video credit: youtube.com
How To Make Mint Wreath