Tips To Bake Mardi Gras Cookies Quickly

20 Jan 2012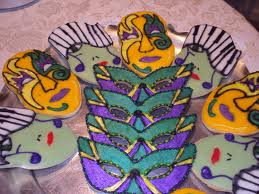 Decorate cookies with the Mardi Gras colors of purple, gold, and green in honor of Fat Tuesday. Tweak your creative side to make cookies that would be served during the Mardi Gras celebrations. Most of the foods served during the occasion are healthy and  in keeping with tradition. How about serving some delicious cookies too for the occasion and getting them ready real quick by following the tips given below…
Quick Mardi Gras Cookies Baking Tips
Sugar cookies would do fine if you are in a hurry.                                                                                                            
Choose an easy recipe so that you do not go wrong.
Check your oven and make sure it is working fine before you begin baking.
Use all-purpose flour for making the dough and be sure to add only what is required.
Measure all ingredients as given in the recipe and add them according to instructions. We do not want anything to go wrong when we are short of time.
Get royal icing and Mardi Gras food colors ready.
Make plenty of masks, crawfish shaped cookies, in purple, gold, and green.
Cookie cutters can help, however if you do not get the right shaped ones, a small penknife can do the trick. You might just have to frost in the details.
Always let cookies cool completely before you begin frosting them.
Once frosted, let cookies dry before storing.
Tips to make Best Mardi Gras Cookies
Make the cookies a little bit thicker than usual. Thick cookies would taste delicious when frosted heavily.
The cookies should remain crisp and crackling and for this add only the required amount of shortening as well as put in some peanut crunchies.
Add some food colors to sugar and sprinkle these on the cookies for a complete Mardi Gras effect.
Serving cookies for Mardi Gras is a good way to keep the kids and guests entertained.
Image credit: cinnamonsweetshoppe.wordpress.com  ;  skinnyfoodbyamy.wordpress.com 
Tips To Bake Mardi Gras Cookies Quickly