How To Make Vegetable Wreath

19 Jan 2012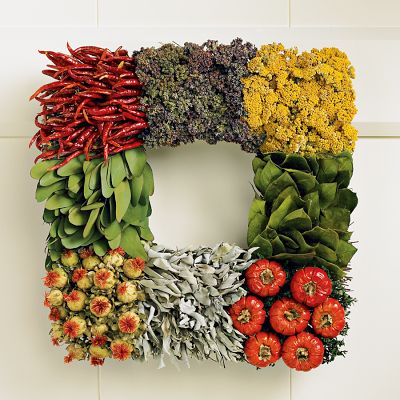 Winter is here and what better way to warm up the hearth than a wreath to decorate your home. Make a vegetable wreath and add color to the cold and dreary days. Use fresh vegetables instead of artificial ones and capture their natural beauty. Brighten up the rooms with orange pumpkins, red radishes, and green herbs. Let us learn to make a gorgeous winter wreath…
Steps to Make Vegetable Wreath
Begin with a strong base wreath made of wire or vines. Grapevine base wreaths are usually perfect for vegetable wreaths since they are neutral and will not fall apart. Moreover, they can be re-used year after year. Using grape vine wreath you can easily conjure up a fall or a spring wreath.
Fasten evergreens to the wreath frame using wires and fern pins.
Vegetables are heavy and might separate from the wreath base. Hence, they need to be secured with some extra precautions like using glue as well as piercing them with the wire and attaching to the base.
Once the vegetables become moldy or wilt, they can be replaced.
Cover the wreath with choicest vegetables.
Ideas for Decorating Vegetable Wreath
Add some dried berries, small fruits, and flowers to the variety on the wreath.
A plaid bow at the top or bottom would add the extra elegance.
Sprinkling some glitter over the wreath can make it more festive.
Wreaths made of vegetables are very easy to make and all the raw materials can be obtained from your kitchen. So, go ahead and make one for your home.
Image credit: mom-planning-parties.blogspot.com/ ; verkadedesign.wordpress.com/ ; nancycreative.com/
How To Make Vegetable Wreath