How To Make Rosemary Wreath

19 Jan 2012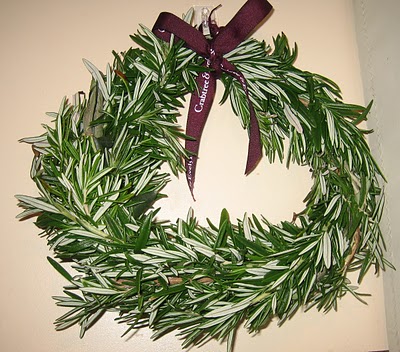 Herbal wreaths are fun to make and this would be the best activity to indulge in if you have a bountiful harvest. Rosemary wreaths are particularly attractive and long lasting. They are evergreen herbs and the best choice for a herbal decoration. So, let us get the rosemary cuttings ready and begin creating…
Steps to Make Rosemary Wreath
Begin by getting a wreath frame. A grapevine wreath would do fine as the base.                                                                                
Use sphagnum moss for giving a leafy and green background to the wreath.
Secure the moss to the wreath using wires and glue.
Tie up rosemary sprigs into bunches.
Place one bunch on the wreath at the 12 o' clock position and tie it up here.
 Continue to secure rosemary bunches at hourly positions working clockwise.
Make sure each bunch overlaps the tied portion of the first bunch.
Cover the whole wreath with rosemary bunches in this manner.
Secure two more layers of rosemary in the same way for a lush wreath.
Watch the video to pick some tips on making wreaths with rosemary.
Ideas for Decorating Rosemary Wreaths
Attach a bow made of ribbons for a colorful look.
Dried fruits and flowers can also jazz up the green colored wreath.
Rosemary can be used along with other herbs for making a herbal wreath to be hung in the garden or in the kitchen.
Small painted sayings, artificial birds, seed packets, bird nests, butterflies, bees etc can also be used for decorating.
Wreaths made of rosemary are definitely worth the effort since they can be hung  wherever desired and they would make the place welcoming and fragrant this holiday season.
Image credit: lorributera.blogspot.com/  ; kadie-sevenalive.blogspot.com/
Video credit: youtube.com
How To Make Rosemary Wreath