How To Make Cinnamon Wreath

18 Jan 2012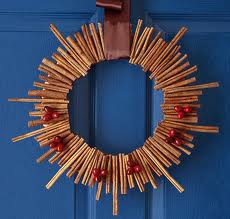 Make a winter wreath using cinnamons this year and enjoy the fragrance that this emanates. The pleasant scent of a cinnamon wreath pervades every nook and corner of homes where they are hung as winter decorations. So, let us get those cinnamon sticks ready and make our wreath…
Steps to Make Cinnamon Wreath
Get a wooden wreath frame from the market.                                                                                                                                   
Cinnamon sticks of size around 6 to 7 inches would do fine. This can be bought from the market. They are available in bags of 20 to 25 pieces.
Glue one of the cinnamon sticks on one side of the wreath.
Similarly, keep sticking cinnamon sticks around the same side of the wreath to cover it completely.
The cinnamon sticks should be pointing outwards at a slant.
Continue to glue cinnamon sticks until the wreath is covered as much as you desire.
Decorate as desired.
Ideas for Decorating Cinnamon Wreath
Attach a seasonal bow on top or bottom of wreath.
Cinnamon sticks can be bunched together and then stuck on a wreath for a different type of winter decoration.
Add some pine cones to the cinnamon wreath.
Some dried flowers and raffia also adds to the beauty of a cinnamon wreath.
Cinnamon wreaths are long lasting and continue to be fragrant throughout.
Image credit: foodfreedom.wordpress.com/ ; jenniferelliottonline.wordpress.com/ ; dogs-blog.out-and-about-with-your-dog.com/
How To Make Cinnamon Wreath