Tips To Bake Carnival Cookies Quickly

5 Jan 2012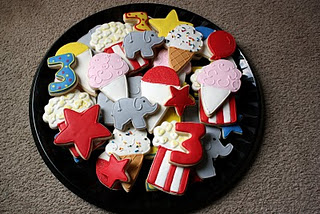 Cookies made to celebrate the period of Carnival which leads up to Lent, are colorful and mostly crumbly in nature. Carnival cookies are fairly simple to make and have to be decorated in a manner to attract attention and capture in the feeling of gaiety. Let us have a look at some interesting tips that would help you whip up these cookies in a matter of minutes.
Quick Carnival Cookies Baking Tips
Most of the cookie dough is made of similar things except for the proportions of ingredients.
Since cookies are rather simple to make, a slight error in following directions can lead to bad situations, hence follow all instructions very well.
Do not add too much of flour to the dough. This can cause the cookies to become dry and hard.                                                   
Try reducing the amount of flour by ¼ cup from that mentioned in the recipe.
Once kneaded and ready, place cookie dough in the refrigerator so that the flavors infuse and dough becomes very pliable.
Check oven with a thermometer for accurate temperatures.
One way that cookies do not get over baked is to set the oven temperature at about 5 degrees less than the temperature mentioned in the recipe.
Do not use leftover baking ingredients from the previous year, since these ingredients can spoil the taste and texture of cookies.
Using freshly bought ingredients is the easiest way to ensure that cookies taste good.
Use insulated cookie sheets so that there are no burnt carnival cookie bottoms this year
Tips for making Best Carnival Cookies
Decorate carnival cookies with colorful gumdrops, chocolate chips, and frosting.
Cut cookies in shapes of clowns, carousels, fairs etc.
Frost them with bright colored icing.
Carnival cookies are fun to make and if you involve the kids too in the baking, they can decorate their own cookies.
Image credit: thetreatboutique.wordpress.com/ ; icingsbyang.blogspot.com/ ; cuisinedefrance.ie/
Tips To Bake Carnival Cookies Quickly