Tips To Bake Chinese New Year Cookies Quickly

4 Jan 2012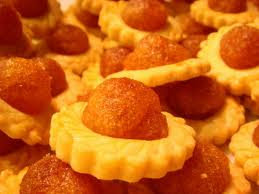 Cookies made for the Chinese New Year are traditional and include pineapple tarts, peanut cookies, and fortune cookies. Pineapple tarts are rarely seen on shelves on other days and hence it stands to reason that they are specially made for this occasion. Read on for some tips to bake these Chinese New Year cookies in order to celebrate the begining of a brand New Year according to the lunar calendar.
Quick Chinese New Year Baking Tips
Pineapple paste for the tarts can be bought from shops or made at home. Homemade would definitely taste better and is easy to make too, however if you want to save time, the readymade one will do just fine.
Add some milk to the dough mixture to make the crust flaky and melt-in-the-mouth.
While making peanut cookies, use crunchy peanut butter for better taste and texture.
Let cookies cool completely prior to removing from the oven rack lest they should crumble.
Try a variation while making peanut cookies, roll them into balls and dust with sugar. Insert an unwrapped Hershey kiss into each of the warm cookies. This would be a sweet little surprise for the kiddos.
It is always advisable to chill the dough prior to baking since this makes the dough more pliable and easier to work with.
Use a rolling pin of good quality to roll out the dough with minimum requirement of flour while rolling.
More Tips 
Ensure that the oven you are planning to use heats up accurately. A thermometer can be used for the same.
Take the cookies out of the oven when they are a little undone since they continue to cook even after being taken out.
For best tasting Chinese New Year cookies, make sure that all the ingredients used are fresh.
Chinese New Year is the time to rejoice and celebrate with loved ones welcoming the New Year. Exchange gifts and eat delicious cookies especially made for the occasion.
Image credit : breadetbutter,  ibbyskibby 
Tips To Bake Chinese New Year Cookies Quickly