Tips To Bake Valentines Cookies Quickly

3 Jan 2012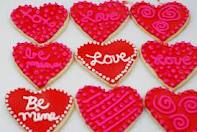 Surprise your loved ones on Lover's Day with home baked Valentine Day cookies. Be assured that when they bite into the chocolate filled hearts or pink colored sweetheart cookies, plenty of appreciation would come your way. You can even try making fortune cookies with a surprise element baked within. Read on for some interesting tips to make valentines cookies quickly at home.
Quick Baking Tips for Valentines Cookies 
Choose a simple cookie recipe like sugar cookies or chocolate chip cookies. These are easy to get ready.                                      
Make sure you have heart shaped cookie cutter since valentine cookies should be definitely be heart shaped in commemoration with the mood of the day. Alternately, heart shaped cookie pans can also do fine.
Have red, pink, and white colored icing ready. These colors are traditionally used for decorating valentines' cookies in keeping with the spirit of the day.
Either give a base color of frosting and follow it up with subtle designs or decorate the cookie edges with swirls, scallops, etc with icing in pastry bags.
Write romantic messages on the cookies with the icing in the pastry bag.
Personalize the cookies by writing the name of the person they are intended for.
Red licorice, chocolate hearts, colorful balls, gum drops, sprinklers etc make attractive decorations.
Allow the first layer of icing to dry prior to making further decorations.
Tips for making the Best Cookies on Valentines Day
Heart shaped cookies convey the message of love more so when frosted with chocolate icing.
Cookie lollipops are ideal if you are planning a Valentine's day party.
Mix the icing slowly so as to prevent air bubbles from getting in.
A rubber spatula or an offset spatula would be the ideal tool to use for mixing the frosting.
Let the royal icing dry completely before frosting the designs on the cookies.
Surprise your loved one with delicious Valentines cookies and glow in the warmth of appreciation that is sure to be showered on you.
Image credit: mjcuisine.wordpress.com/ ; dinneranddessert.wordpress.com/ ; revivinghope.wordpress.com/
Tips To Bake Valentines Cookies Quickly