Tips To Bake Easter Cookies Quickly

3 Jan 2012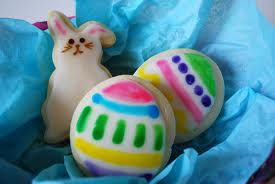 Baking cookies is the most enjoyable part of Easter. Bunnies, carrots, colorful eggs, lambs, chicks…the list is  simply endless. Convert plain & boring cookies into variegated and attractive Easter cookies in no time at all with the aid of the useful tips given below.
It is the time to get your creative skills into action and go berserk with icing, colors, shapes, and decorations to get those irresistible cookies into the festive hampers. Though cute rabbits and egg shaped cookies are the norm of the day, you can try something unconventional like baby animals or attractive doll shaped cookies and win many a kid's heart. So, put on your baker's hat and get the dough rolling…
Quick  Cookie Baking Tips for Easter
Always opt for a simple cookie recipe since this would leave you with ample time to spend on decorating it.                        
Always melt chocolate in the microwave instead of a water bath.
Melt the butter before making the dough for keeping accurate measurements.
Cut butter from the refrigerator into smaller cubes and then melt in the microwave for quicker results.
Begin decorating Easter cookies once they have completely cooled room temperature.
It is important to let once color sugared icing dry before using another color. This would prevent them from getting mixed up.
Go ahead and give a base-icing layer on the cookies. Once this cools and dries up, decorate.
For quick decoration, use jelly candies, gumdrops, etc. These would give you the required effect in very less time.
Thin frosting can be made by mixing some powdered sugar with milk or water.
Use easily available cookie cutters to get desired Easter cookie shapes.
Tips for making Best Cookies during Easter 
Add a little bit of orange or almond extract to the frosting to flavor it.
In the absence of cookie cutters, cut geometric patterns like stripes and triangles and decorate for an equally festive effect.
Egg cookies are among the easiest to make and decorate. No Easter baskets are complete without them; hence make sure you have plenty of these in various hues.
Shortbread cookies can also be tried out this Easter.
Easter cookies have to be attractive and colorful, and be able to catch the festive spirit it embodies.
Image credit: bakingbitsandbobs.wordpress.com/ ; makemyselfathome.wordpress.com/ ; sweetandsaucy.wordpress.com/
Tips To Bake Easter Cookies Quickly