Easy Tips To Poach Garlic

23 Dec 2011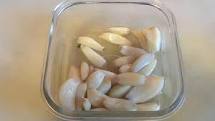 Garlic is usually poached in oil and used in various ways. On being poached, garlic softens and can be pureed easily. Garlic cooked this way has a more subtle flavor than the raw or fried ones. Moreover, the poaching oil can be used to flavor vinaigrette. Follow the steps given below for successfully poaching garlic  and pick up some easy tips while doing so…
How to Poach Garlic
Take a saucepan and add 4 cups of water to it. Bring the water to rolling boil.                                                                              
Separate cloves from the garlic bulb. Add the unpeeled garlic cloves into the boiling water after taking it off the heat.
Let garlic cloves soften in the hot water for about 50 minutes.
Strain and keep aside the garlic. Peel them.
In a saucepan, take some canola oil, olive oil or any other cooking oil and place over medium heat.
Add the peeled garlic cloves into the oil.
Let the oil and garlic simmer for about 45 minutes over low heat.
Once the garlic softens and becomes a golden brown in color, take the garlic out.
The poaching oil can be stored for use later.
Poached garlic can be pureed and used as toppings or dips.
5 Tips for Poaching Garlic
Always blanch garlic before poaching. Blanching would soften it slightly and make it easier for the skins to be taken off.
The flavors of the oil and garlic would fuse during the simmering process.
Do not let the oil boil and fume; this would impart a charred and smoky flavor to the oil.
Do not add garlic to very hot oil since garlic would immediately get charred.
Make sure that garlic does not get overcooked to such as extent that it becomes difficult to separate it from the oil.
Poach garlic and give a Mediterranean twist to recipes like hummus, bruschetta etc.
Image credit: blogs.poughkeepsiejournal.com  ; nutritionhealthnet.com/ ; 
Easy Tips To Poach Garlic