Easy Tips To Poach Prawns

22 Dec 2011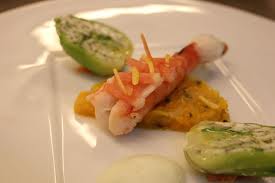 Poaching is one of the best ways to cook prawns without adding any fat to the dish. To add more flavor to the dish the poaching liquid can be varied or seasoned as desired. Prawns are versatile and can be poached in any liquid, from wine to broth to beer. Let us pick some easy tips to poach prawns and follow the guidelines to do it the right way…
How to Poach Prawns
Take a soup pot and add white wine and seafood stock to it.                                                                                                            
Bring the liquid to a gentle simmer over low heat.
Add in some chopped celery stalks, carrots, garlic cloves, onion, lemons, bay leaves, salt etc.
Let liquid simmer for about 10 minutes so that the flavors mix well.
Add the deveined and cleaned prawns to the simmering liquid.
Let prawns cook until they curl up and become an opaque pink in color.
Using slotted spoons remove poached prawns from the liquid and use as desired.
Poached prawns can be added to salads, soups, pasta etc.
Watch the video to pick up some easy tips to poach prawns:
5 Tips to Poach Prawns
Prawns can be poached in warm olive oil that has been seasoned with fresh herbs.
Poaching liquid can be flavored with vinegars, juices etc. Orange juice and apple cider vinegar can impart a citrusy taste to prawns.
Do not add prawns into boiling liquid. Wait for it to come down to a gentle simmer before adding in the seafood.
Do not overcook prawns since this can lead to loss of flavor and texture.
The poaching liquid can be reduced and further flavored for being served along with poached prawns.
Poach prawns at home with ease and enjoy seafood more often in your regular diet.
Image credit: blog.constancehotels.com  ; muddydogcoffee.wordpress.com/ ; journeyetc.com
Video credit: youtube.com 
Easy Tips To Poach Prawns