Easy Tips To Poach Rhubarb

20 Dec 2011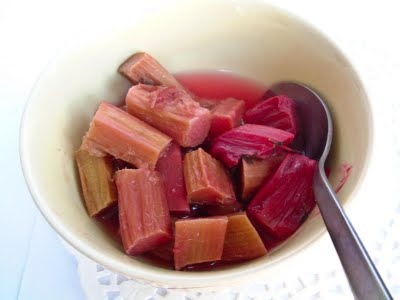 Poaching rhubarb is not as tricky as it sounds. Though many of us might have ended up with a red stringy mass in our previous endeavors , the instructions outlined below would definitely provide a way for getting perfectly poached rhubarb. Read on to know the secret of getting rhubarb that has not lost its shape as well as some easy tips on how to poach rhubarb…
 Poaching Rhubarb
Wash rhubarb well and make sure there is no dirt in the stem cluster end.                                                                               
Separate each red stem from the base and slice into pieces of about 2 cms in length.
Place cut rhubarb in an ovenproof dish. It would be real good to layer the rhubarb pieces in a single layer.
Sprinkle some sugar.
Bake rhubarb for about 15 to 20 minutes until almost done, yet not cooked through.
Take rhubarb out of the oven and turn the pieces.
Rhubarb will continue to cook and be ready as it cools.
Serve poached rhubarb with cream and cheese.
Watch the video to pick some tips to poach rhubarb:
5 Easy Tips to Poach Rhubarb
The secret to poaching rhubarb is to cook it in the oven rather than on the stove.
Do not overcook since rhubarb breaks down easily to form a stringy mash.
Let rhubarb get completely cooked as it cools down since this will retain its shape and flavor.
Poached rhubarb can be stored in an airtight container in the refrigerator for up to 3 days.
Use rhubarb as desired in dessert s and puddings.
Poach rhubarb and enjoy this perfect red colored ingredient in all its tasty splendor.
Image credit: discoverlavender.wordpress.com/ ; myrecipeproject.blogspot.com/
Video credit: youtube.com/
Easy Tips To Poach Rhubarb