Easy Tips to Poach Shrimp

9 Dec 2011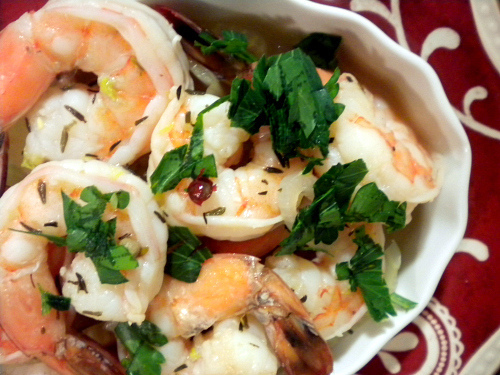 Poaching is a cooking method that is suitable for shrimps. The method brings forth the sweet taste of shrimp meat and if desired the shrimps can be poached in their shells directly. Shrimps are of a wide variety where poaching is considered since they can be cooked in beer, wine, broth, juice etc. A different cooking liquid imparts a different flavor to the seafood. Read on for some easy tips to poach shrimp and the steps to cook it right…
How to Poach Shrimp
In a soup pot, add white wine and seafood stock into this.                                                                                                                 
Bring the liquid to simmer over medium to low heat.
Add in chopped celery stalks, carrot, garlic cloves, and onion.
Squeeze in two lemons and season with salt, pepper, and bay leaves.
Let simmer for about 5 to 10 minutes.
Peel shrimps and devein them. Wash well.
Add to the poaching liquid and bring to boil.
Shrimps are ready when they turn opaque and pink in color.
Using a slotted spoon, transfer cooked shrimps onto a strainer and let cool.
Serve poached shrimp in cocktails or add to pasta, soups, and salads.
Watch the video to pick some easy tips to poach shrimp:
5 Tips to Poach Shrimp
Shrimps can be directly added to the simmering liquid with their shells intact. This would hold the meat together after cooking.
Add lemon zest, orange juice, and apple cider to the liquid for a citrusy fling in the shrimps.
Warm olive oil with sage and herbs would give an Italian twist to poached shrimps.
Poached shrimps can be cooled and added to cold salads.
Float this seafood in a bowl of delicious soup.
Poach shrimps easily at home and enjoy the  goodness of seafood without much hassle.
Image credit: organically-me.net/?p=395 ; muddydogcoffee.wordpress.com/ ; aromacucina.typepad.com/
Video credit: youtube.com/
Easy Tips To Poach Shrimp