Easy Tips To Poach Apple

8 Dec 2011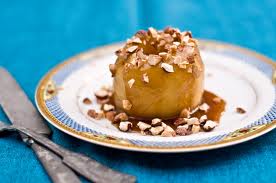 So how about some poached apples for dessert? They are easy to make and all you need are some apples and some wine or juice. Apples that are firm and at the peak of their ripeness are ideal candidates for poaching. Read on for easy tips and detailed instructions on poaching apples…
How to Poach Apple
Wash apples very well and dry with kitchen towels.                                                                                                                             
Peel apple using an apple peeler or a knife.
Apples are best when poached in wine, however, juices and sweetened water will also work. Pour poaching liquid of choice in a deep saucepan.
Heat it over medium temperature and bring it to bubbling stage.
Now, reduce the heat, and add sugar and spices as desired. Let sugar dissolve in the liquid. The amount of sugar can be adjusted after tasting it.
Put the apples in the liquid and cook covered over low temperature for about 20 minutes.
Test whether apples are done by inserting a fork.
Using slotted spoons transfer poached apples onto serving plates.
Watch the video for easy tips to poach apple:
5 Tips to Poach Apple
 When white wine is used for poaching apples, the cooked apples would have an enhanced natural flavor and color.
For attractive deep red colored poached apples, the dry red wine is the best choice.
Do not add too much sugar to the poaching liquid that the sweetness dominates the natural taste of the apples.
Firm fruits would take about 20 minutes to get poached while halved fruits would be done in half the time.
Apples are usually poached without their skin.
Poached apples can be served as a healthy dessert as well as be part of a recipe or meal.
Image credit: thebeeroness.wordpress.com/ ; foodcomas.wordpress.com/ ; thebeeroness.wordpress.com/
Video credit: youtube.com/
Easy Tips To Poach Apple