Easy Tips To Poach Fish

7 Dec 2011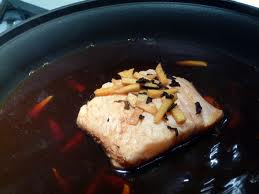 Poaching fish is one of the healthiest ways to cook fish. However, one has to be careful and know exactly how and when to cook it as well as how long to cook it. The poaching liquid can be altered in order to vary the taste of the poached fish. Lean fishes like sole, snapper, halibut, haddock, cod, and tilapia are ideal candidates for poaching. Salmon and trout are the fatty fishes that are often poached. Read on for excellent tips to poach fish  as well as instructions to go about the job…
How to Poach Fish
Make enough court bouillon to immerse fish while poaching.                                                                                                               
Let court buillon cool to room temperature if planning to poach the whole fish. The court buillon can remain hot if fish fillets are to be poached.
Make small shallow cuts on the skin side of the fish. These would prevent fish from curling while being cooked.
Place fish in a pot containing the cooled court buillon and bring to boil. Reduce heat and let simmer. For fish fillets, first bring the liquid to simmer in the soup pot and then gently add the fish fillets.
Let cook for about 5 minutes and then check if fish is cooked. When ready poached fish would become opaque.
Remove from liquid and serve warm, sprinkled generously with sauce of choice (preferably white wine sauce).
5 Tips to Poach Fish
Wrap fish in cheesecloth to prevent it from curling while being cooked.
Fish stock and white wine can also be used as poaching liquid. Just ensure that there is enough to keep fish submerged in the pan.
Instead of making diagonal cuts, fish can be rolled into spirals prior to cooking.
Fish poacher can also be used for poaching fish instead of a stockpot or soup pot. This is the best option where whole fish is concerned.
Do not overcook fish and be very gentle while transferring it from pot to plate since poached fish is very fragile and may fall apart.
Learn to poach fish perfectly and impress your friends and family.
Image credit: communaltable.wordpress.com/ ; whenfoodworks.com/ ; gilkopatisserie.wordpress.com/
Easy Tips To Poach Fish