Easy Tips To Poach Chicken

6 Dec 2011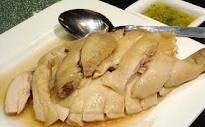 Gently simmer chicken in liquid to poach it to deliciousness. Poached chicken is very healthy and absolutely delicate tasting. Poaching as a cooking method is often considered to be among the healthiest since there is no requirement for addition of any kind of fat or oil. The birds cook using the fat in the flesh and retain their moisture too. Chicken breasts are often poached; however, whole chicken as well as any other part of the bird can also be successfully poached. Read on for some easy tips and detailed instructions to poach chicken at home…
How to Poach Chicken
Put chicken in a pot or pan and cover it with liquid. The entire chicken has to be immersed in liquid hence, first determine the amount of chicken to be poached.
Boil chicken broth or water.
Add chopped onion, celery, carrots, and other vegetables of choice to the water.
Season the broth with salt and pepper and bring broth to rolling boil.
Now, reduce heat and let simmer.
Add the chicken pieces and simmer covered until chicken is tenderized.
In about 15 to 20 minutes, chicken pieces would get cooked.
Remove chicken pieces from pan onto serving plates and use as desired.
Watch the video to pick some easy tips to poach chicken:
5 Tips to Poach Chicken
Use poached chicken in cold salads and in recipes where juicy and moist chicken in required.
Poached chicken can be further roasted in the oven for delicious results.
Shred poached chicken for making fillings of pies, adding to stir fries, top sandwiches, toasts, bagels etc.
The chicken broth can be frozen and used later.
Do not forget to skim the surface of the cooking liquid. Very often, there could be fat froth and other meat particles that rise to the surface.
Poach chicken and store in zip-lock bags for use later. Bite into juicy chicken pieces the next time you make a quick-fix sandwich with this.
Image credit: dejavucook.wordpress.com/ ; mainstcuisine.wordpress.com/ ; lespicekitchen.wordpress.com/
Video credit: youtube.com/
Easy Tips To Poach Chicken