Easy Tips To Poach Salmon

6 Dec 2011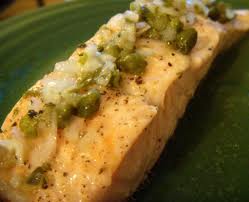 Poaching is one of the best cooking methods for salmon. Salmon is a delicate fish and poaching it keeps its moisture and texture intact. Moreover, there is no need to add fat of any kind while cooking. This makes poaching salmon a healthy cooking option. The fish is simmered gently in liquid over low heat and within 7 to 10 minutes, delicious salmon is ready. Read on for some interesting tips that can come in handy while poaching salmon as well as for detailed steps to poach salmon…
How to Poach Salmon
Add garlic, onions, cut vegetables, salt, pepper and white wine or water in a greased pan.                                                       
Place this over medium-low heat.
Let liquid simmer for about 6 to 7 minutes.
Add cleaned and washed salmon fillets to the liquid and simmer covered.
Cook for about 10 minutes until the liquid is absorbed and fish has turned opaque.
Use a slotted spoon to transfer the salmon very gently onto serving plates.
Serve hot.
Watch the video to pick up some easy tips to poach salmon:
powered by ifood.tv
5 Tips to Poach Salmon
The fish can be simmered in water, champagne, orange juice, chicken broth etc for a variety in taste of poached salmon.
Poached fish is best served with rice, asparagus, and broccoli.
The liquid leftover after poaching can be used later.
During cooking, is the liquid dries up, add some hot water and keep the fish moist.
Add handful of fresh herbs and lemon for an aromatic poached salmon delight.
Poach salmon and treat friends and family to healthy and delicious fish dish.
Image credit: nightowlchef.wordpress.com/ ; ilanadavita.wordpress.com/
Video credit: ifood.tv/video/
Easy Tips To Poach Salmon