How To Shred Lamb

5 Dec 2011
556518-shred-lamb.shredded-lambShredding lamb is one of the easiest ways to use lamb meat in a variety of dishes, including fillings, stir fries, sandwiches, soups, stews, pizza toppings, and fried rice, etc. Lamb meat has to be cooked prior to shredding. Cooking tenderizes the meat and makes it soft enough to be processed. Read on for detailed steps on how to shred lamb…
Steps to Shred Lamb with Fork and Knife
Cook lamb using any one of the cooking methods – baking, boiling, steaming, microwaving, grilling, smoking, braising, etc.              556519-shredding-lamb.shred-lamb
Once cooked place cooked meat on a plate or tray.
Using a knife and a fork begin to pull away meat from the bone as well as from adjacent flesh.
Cut against the grain and keep cutting to get smaller pieces of meat.
Hold the meat steady with the knife and use the fork to separate meat in layers. Two forks can also be used.
As mentioned, the shredded lamb can be put back in the oven or into the pot and cooked for another few minutes for perfect texture. Very often, shredding can dry out the meat and cooking it further would keep it moist.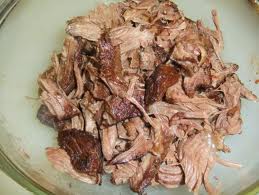 Shred Lamb with your Hands
Place cooked lamb meat on a plate or tray.
Let it cool to room temperature.
Using your fingers, pull away pieces of meat from the bone and further separate meat layers from among the shredded pieces.
Lamb meat has to be cooked very well for successful shredding with fingers.
The shredded meat can be further cooked and used as desired.
There is a vast array of recipes that can be tried out using shredded lamb. Moreover, shredded lamb meat can be stored in zip-lock bags in the refrigerator and used later.
Image credit: carfreeinannarbor.blogspot.com/ ; castironcrook.blogspot.com/ ; eatingaroundwdw.wordpress.com/
How To Shred Lamb