How To Shred Sweet Potato

2 Dec 2011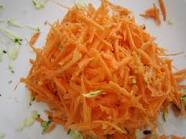 Shredded sweet potato is often used in delicious recipes like black bean cakes, sweet potato pone, shredded vegetable salads etc. They are not only delicious but also, a healthier option to other tuber shreds like potatoes. Hence, knowing how to shred sweet potato, is very useful. For detailed steps just read on…
Steps to Shred Sweet Potato with a Grater
Wash sweet potato very well and make sure there is no mud and dirt sticking onto it.                                                                          
Using a vegetable peeler or a knife, peel the sweet potato. Trim the ends and place sweet potato on a cutting board. Gently slice away the skin.
Place a box grater on a firm and clean surface.
Hold the grater with one hand and with the other hand run down the sweet potato.
Repeat to get flakes of sweet potato.
Continue in this manner with all the sweet potatoes.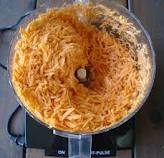 Steps to Shred Sweet Potato in a Blender/ Food Processor
Wash and peel sweet potato.
Cut it into small pieces.
Transfer these into a blender and process on pulse setting for about 3 minutes to get freshly shredded sweet potato.
Alternately, cut sweet potato into wedges and insert these into the food chute while the equipment is turned on.
Use shred sweet potato as desired. They can be stored in zip-lock bags in the refrigerator for use later on.
Watch how to shred sweet potato in the video and pick up some tips:
Sweet potato can be shredded raw as well as cooked. Raw shred are best used in salads. Sweet potato that has been half cooked can also be shredded by methods mentioned above. Once you practice how to shred sweet potato, the tuber can be used more often in your daily diet.
Image credit: Image credit: warmvanillasugar.wordpress.com/ ; whiskheraway.wordpress.com/ ; dianeschnier.wordpress.com/
Video credit: youtube.com/
How To Shred Sweet Potato