How To Shred Cucumber

2 Dec 2011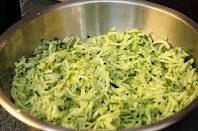 Shred cucumber and add to delicious salads, soups, cakes, breads and sandwiches. Cucumber can be easily shredded at home either in the food processor or with the help of a grater. Read on to know exactly how to go about doing it…
Steps to Shred Cucumber in a Food Processor
Wash cucumber very well under running water to get rid of all adhering dirt and mud.                                                                     
Place cucumber on cutting board and trim both ends.
Peel cucumber using a vegetable peeler. This step is optional. Cucumbers can be shredded with the peels on too.
Cut cucumber lengthwise and then again into wedges. Slice away the seeds.
Cut cucumber further into smaller pieces.
Place in the blender or insert into the food chute of a food processor.
Process to get shredded cucumber and use as desired.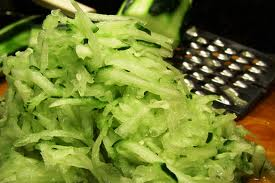 Steps to Shred Cucumber with a Grater
Wash and peel cucumber.
Cut it lengthwise and slice away the seeds.
Hold cucumber with your dominant hand the grater in your other hand.
Run cucumber down the grater to get cucumber flakes.
Repeat until cucumber has been completely grated.
Watch the video on how to shred cucumber for some more information on the same:
Once you learn how to shred cucumber easily at home, use it fresh in various recipes.
Image credit: couponclippingcook.com/ ; hellohotdish.com/ ; lusciousfood.wordpress.com/
Video credit: youtube.com/
How To Shred Cucumber