How To Shred Broccoli

1 Dec 2011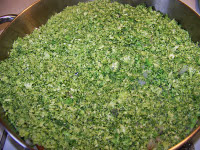 Shredding broccoli easy and when mixed with shredded carrots and cabbage makes excellent side dish. The process can be carried out using  a manual grater, food processor or even a pair of scissors. Read on to know how to shred broccoli easily at home…
Steps to Shred Broccoli
Wash broccoli very well under running water and discard the hard edges.                                                                                    
Trim the stem and then cut along it to free the florets. The florets can be further cut into bite-sized pieces if planning to use a blender/food processor for shredding. While using manual graters, large broccoli pieces would make holding the vegetable easier.
Shredding broccoli:

Manual grater: Hold the grater down over a plate or bowl and run broccoli head first on the grater rivets. Continue to shred flower head as well as the stem.
Blender/Food processor: Put the small broccoli florets into the blender or food processor and process to shred broccoli.
Scissors: Cut broccoli into small pieces with a pair of scissors.

Continue to shred broccoli until the entire flower has been grated.
Use shredded broccoli to make delicious salads, stir-fries, patties, etc.
Broccoli might seem a bit difficult to shred initially since the florets might not keep together all the time, however, a little bit of practice would soon show results. Make sure that you follow the above-mentioned steps while doing the job.
Image credit: meatlessinshanghai.wordpress.com/ ; curryandcomfort.blogspot.com/
How To Shred Broccoli