How To Shred Turkey

30 Nov 2011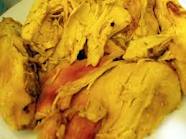 Shredded turkey can be used in a variety of dishes like sandwiches, soups, stir-fries, pasta and even serve with grilled vegetables. Shredded turkey has versatile uses and read on for steps to know how to shred turkey in order to enjoy these…
Steps to Shred Turkey
Turkey is best shredded cooked. Raw turkey does not shred well.                                                                                                                 
556398-shredded-turkey.shred-turkey
The key word while shredding turkey is to cook it thoroughly. The meat should be soft and tender. It should easily come away from the bones.
Cooked turkey can be shredded using your hands; however, a pair of fork would do just as fine.
Hold down the meat with one of the fork while with the other gently, pull away turkey meat from the bone as well as from neighboring meat.
Shredding meat in this manner would provide you with the convenience of choosing the degree to which the meat needs to be shredded.
Once shredded, use meat immediately.
Alternately, store shredded turkey meat in zip-lock bags and store in the refrigerator.
Watch the video to see how to shred turkey easily:
Turkey meat can be shredded and used for up to a week after Thanksgiving. Learn how to shred turkey at home and enjoy the many opportunities of savoring this tasty meat as well as trying out new recipes with the same long after Thanksgiving.
Image credit: vintagegwen.blogspot.com/ ; icanboilwater.com/
Video credit: youtube.com/
How To Shred Turkey