How To Shred Potato

29 Nov 2011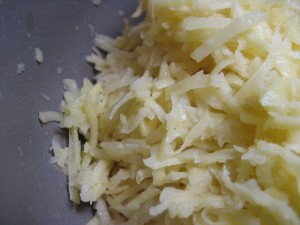 Do you use shredded potatoes often? If so, learn to do it the right way so as to enjoy delicious potato salads and hash browns at a moments notice. Shredding potatoes is very easy and the only thing required would be a hand held grater or a shredder. Read on for steps to shred potato with ease…
Steps to Shred Potato
Wash the potato to be shredded very well under cool water and then peel it. Wash again.                                                              
Place potato on a cutting board and slice it into half, lengthwise or widthwise. This would give you a flat surface that can be easily grated.
Place the handheld shredding device on a plate and hold the other edge with your non-dominant hand.
Take the potato in your dominant hand and run it down the shredder over the metal rivets.
Repeat until all potatoes are shredded completely.
Transfer ribbons of potatoes into a bowl containing water to slow down the oxidation process that can give potatoes a dirty brown appearance. This step can be omitted if potatoes are cooked immediately.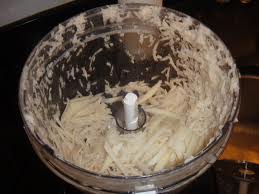 Alternately, a food processor with a shredder attachment can be used to get smaller pieces of potato. Just cut potatoes into smaller pieces and insert them into the food chute.
Watch how to shred potato in this video:
Potatoes are part of staple diet in most homes and learning to shred potato can give you plenty of new ways to enjoy this tuber at home.
Image credit: shushka.wordpress.com/ ; megabeth.net/?p=777 ; heavenlyhomemakers.com/
Video credit:youtube.com/
How To Shred Potato