How To Ripen Raw Mango

28 Sep 2011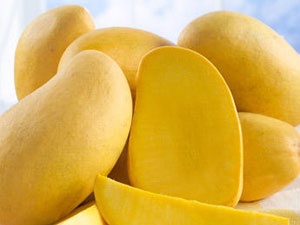 Raw mango tastes bitter and ripening it would make it sweet. Mangoes that are plucked raw from the trees can be easily ripened at home. Ripe mangoes have yellow tinted skin with a strong fruity aroma. Here are some tips to speed up the ripening process of raw mangoes. 
Steps to Ripen Mangoes Easily At Home
Select good unripe mangoes. Make sure the mangoes do not have any brown spots or even abrasions or bruises.
Take a clean brown paper bag and put in the unripe mangoes into this.
Into the bag, add a ripe apple. Ripe apples would emit ethylene gas that would facilitate quick ripening of mangoes.
Fold the mouth of bag and seal.
Let bag sit at room temperature and check for ripeness every day.
The mangoes are ripe when they yield to pressure.
Unripe mangoes would take about 2 to 3 days to ripen and become yellow.
Ripen Raw Mangoes in Microwave Quickly
The microwave ripens raw mangoes that can be used almost immediately. 
Using a knife, make cuts on raw mango on all sides.
Wrap the mango in kitchen towel and microwave for 10 seconds.
Check for ripeness by pressing it with fingers.
Place in microwave for another 10 seconds to get desired ripeness.
Raw mango benefits are many but the lure of taste that ripe mangoes extend is irresistible. Using methods outlined above, ripen raw mangoes at home, and enjoy eating them.
Image credit:xeniagreekmuslimah.wordpress.com
How To Ripen Raw Mango