Tips To Remove Egg Stain

27 Sep 2011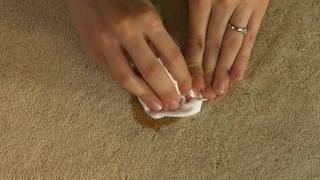 The most important thing to remember while planning to remove egg stains are that they are protein stains and hence warm water should not be used while treating them. Using warm water would cook the egg stain onto the fabric making the stain almost permanent. Here is a step-by-step guide to removing egg stains without harming the stained surface…
Remove Egg Stains with Ease from Washable Fabric
Enzyme containing stain removal products are ideal for removing egg stains since the enzymes break the proteins in egg.
Remove caked on egg from stained area.
Flush out the residual stain by running cold water through the stained area.
Pre-treat stain using laundry detergent that contains enzymes.
Soak the fabric in cold water for 30 minutes. Do not use warm water.
Repeat the steps until stain disappears.
Wash the fabric and dry it.
In order to remove egg stains from carpet and upholstery, a mixture of cold water and liquid dish wash can be used. So do not worry about egg stains anymore, just get working on them quickly.
Image credit: lifeusustainability.wordpress.com/
Tips To Remove Egg Stain