How To Grate Tomato

12 Sep 2011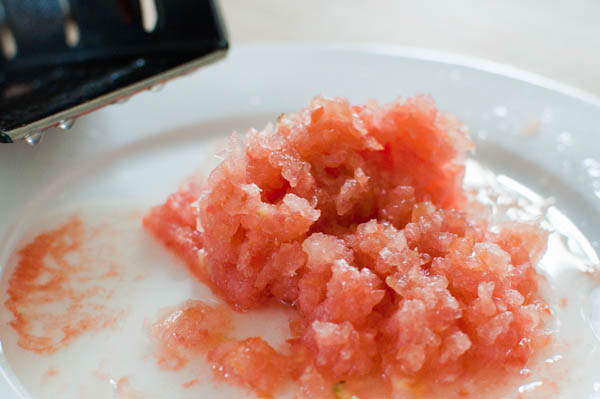 From Italian sauces, to Indian curries grated tomato is an essential ingredient in most of the dishes across the globe. Grating tomato, however, looks a little messy and time taking. Read these simple how to grate tomato tips and do it yourself the next time around.
How To Grate Tomato Using A Grater:
1 Wash the tomato thoroughly and cut it in to half, across the width.
2 Over a bowl, firmly hold a vegetable grater and rub the cut side of the tomato across the grater in an up and down motion.
3 Grate until just the skin is left. Do not grate the skin and discard it.
4 Repeat the process with the remaining tomatoes grating just the meat and discarding the peel.
5 You can chose to strain the grated pulp before using.
 Grating Tomato With A Food Processor:
1 Thoroughly was the tomatoes, and make sure you chose the ripe ones.
2 Cut them in to half width wise.
3 In a food processor fitted with a metal blade, put the tomato halves and secure the cover tightly.
4 Process for about 5 seconds and you will get the desired results instantly.
Now since you know how to grate tomato effortlessly, try this amazing recipe of Tomato Fish and do share your feedback.
Image Courtesy: jeroxie.com
How To Grate Tomato