How To Grate Garlic

4 Sep 2011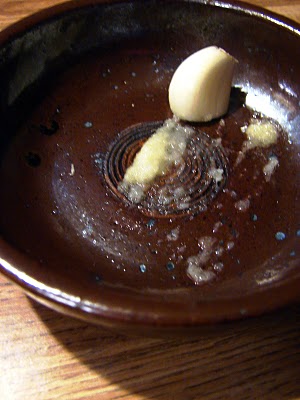 A bit of garlic can add oodles of flavor to your curries, sauces or soups. However, grating garlic appears difficult to many of us. Read these easy how to grate garlic tips and do the task with ease in your own kitchen.
1 Separate the garlic into cloves. To peel the garlic, gently press each clove using a broad knife. The clove will crack a bit which will make it easy for you to peel the garlic cloves.
2 Remove the skin from the garlic.
3 Hold the small grater firmly with one hand over a bowl, and gently rub the peeled garlic cloves against the small holes of the grater in an up and down motion.
4 Continue, until you get the desired quantity of grated garlic.
Apart from this, you can also choose to smash the garlic cloves with a broad knife, however, the garlic would be a little coarse. Another alternative that can be used to save time, is chopping the garlic into fine bits. Try these easy how to grate garlic tips in your kitchen and add the distinct garlic flavor to your food.
Image Courtesy: chairmanstef.blogspot.com
How To Grate Garlic