How To Grate Cassava

31 Aug 2011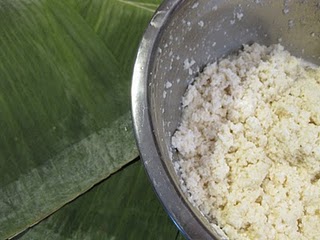 Cassava is used in a lot of dishes which have a regional and cultural importance. Particularly very popular in Nigeria, cassava is used to prepare the very popular Eba and Gari dishes. In the rest of the world it is used in making purees, soups etc. Cassava must be processed and cooked well before using. But before using it, you need to grate it. Therefore, here are some tips on how to grate cassava; read on.
How To Grate Cassava With A Grater:
1 Wash cassava thoroughly and peel the shell.
2 Wash the peeled cassava again to remove any dirt from the tuber.
3 On a work surface or cutting board, hold the grater firmly with one hand. Using your other hand rub the cassava in an up and down motion against the medium sized holes on the grater. You can even use the large size holes depending upon the coarseness you desire.
4 Keep the grated cassava immersed in water while grating the remaining batch.
5 Cassava can be dried, processed or cooked well before the use. This is very essential to remove the toxins from it.
How To Grate Cassava With A Food Processor:
1 Peel the cassava shell and wash it thoroughly to remove any durt from the surface.
2 Cut the cassava in to 1 ½ inch pieces.
3 In a food processor jar, fitted with the regular metal blade put the cassava pieces and process.
4 Keep checking and stop processing when cassava is grated as per your preference.
5 Process cassava in batches and do not overstuff the food processor jar.
With these simple how to grate cassava tips, you can easily do the task in your very own kitchen. Go ahead and make your favorite cassava bread or the cassava cake….happy cooking!!
Image Courtesy: sweetcherriepie.blogspot.com
How To Grate Cassava