How To Grate Apple

31 Aug 2011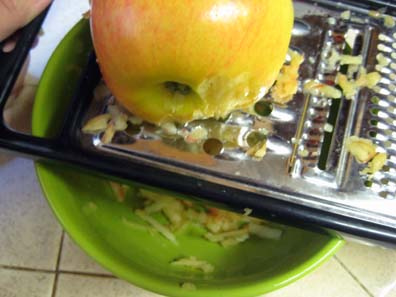 From the streusel to the quick bread, you might just need grated apple in any recipe. How to grate apple in your own kitchen might sound quite a task, but actually, it is quite simple and quick. Read on to know how.
How To Grate Apple With A Grater:
1 Wash the fresh apple thoroughly and dry them with a paper towel. This is done so that the apple becomes easy to hold and does not slip while peeling.
2 The next thing you do is to peel the apple using a vegetable peeler. Cut the apple into quarters and core.
3 On a plate or a board, hold the box grater or a cheese grater firmly with one hand. Hold one quarter of the apple in the other hand and rub it against the large or medium holes of the grater in an up and down motion.
4 Repeat the process with the remaining apple pieces and tap the grater a bit to remove any grated apple stuck on the underside of the grater.
Grating Apple With A Food Processor:
1 Wash and dry the apple thoroughly.
2 Peel the apple neatly. Cut into quarters and core.
3 Put the apple pieces in the food processor jar and process for 5 seconds. Check the coarseness and repeat if you want to grate it further.
4 Transfer to a bowl and repeat with the remaining apples. Do not stuff the food processor jar completely.
These are the easiest ways of grating  apples in your own kitchen Always remember, that apple must be grated just before the use otherwise, they will turn brown if exposed to air. However, this can be avoided if the apples are kept coated with lemon juice. Lemon juice prevents discoloration and helps the apple retain the original color. Share these easy how to grate apple tips with your friends and family and get popular.
Image Courtesy: daily-craft.blogspot.com
How To Grate Apple