How To Grate Cheese

26 Aug 2011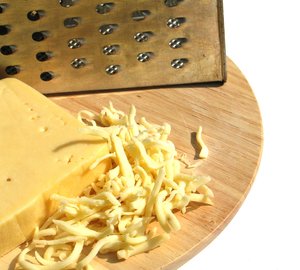 Didn't find the readymade grated cheese at the grocery store? Never mind, here are a few easy methods, which will teach you how to grate cheese in your own kitchen so that you don't have to visit the store again, at least for grated cheed. Read on to know more.
How To Grate Cheese Using A Blender Or Food Processor:
1 The biggest problem while grating the cheese in a blender is that it sticks to the blades. To avoid this, spray the blades well with a non-stick cooking spray.
2 Cut about 1 inch cubes from the cheese block.
3 Add to the blender or food processor in batches and process using the pulse button, until desired texture is attained.
4 Repeat the process with the remaining cheese.
.
How To Grate Cheese Using A Knife:
1 Slice the cheese very thinly.
2 Arrange the cheese slices in a stack and cut the stack thinly from top to bottom.
3 Turn the slices and cut them into the length you prefer.
4 Dice or chop into very small pieces for that finely grated cheese effect.
How To Grate Cheese Using A Grater:
1 To get the smooth texture, its advisable to remove the rind.
2 Place the grater on a board or a plate.
3 Firmly hold the cheese and rub against the grater in an up and down motion. Be careful not to hurt your knuckles.
4 Sometimes the cheese gets stuck on the underside of the grater, lightly tap to remove it.
5 The rind taken off from the cheese, can used in sauces, soups or broths.
These were the three easy ways of getting market-like grated cheese at home. There is an advantage of using a handheld grater, that you can get the desired thickness. You can choose the method best suited to you and add flavor to your food. We hope that after this "how to grate cheese" is no longer a secret for you.
Image Courtesy: rgbstock.com
How To Grate Cheese